Massaponax Gravity Sewer/Interceptor Pipeline Replacement. Spotsylvania County, Virginia.
The project involved designing the replacement for the existing Massaponax Interceptor Sewer. The interceptor conveys wastewater flows to the County's Massaponax Wastewater Treatment Plant.
Preliminary Design: The Preliminary Engineering Phase included the following work efforts: confirmation of project flows, evaluation of various construction alternatives, pipe material evaluations, hydraulic model simulations of the interceptor system, determination of pipe diameters, alternative alignment evaluations, public meetings to educate the public, and evaluation of existing pump stations for elimination. A Preliminary Engineering Report (PER) was prepared during this phase of the project.
Final design and preparation of plans and specifications were completed for the following project components:
Phase 4 – American Central Branch (at 90% Design) 9,400 LF 18-inch
Phase 3 – Leavells Road to the Gordon Road 34,800 LF 24 to 30-inch
Phase 2 – Route 1 to Route 608 20,100 LF 30 to 36-inch
Phase 1 – Route 608 to WWTP 14,300 LF 2 to 54-inch
Thornburg Interceptor 18,000 LF 30 to 42-inch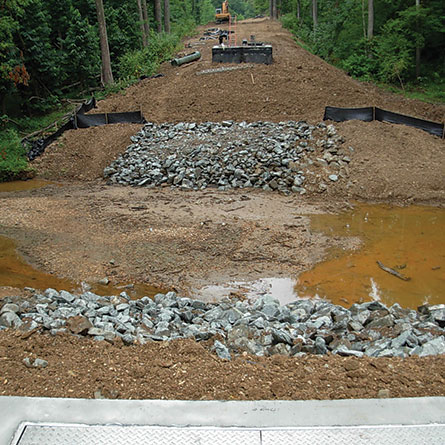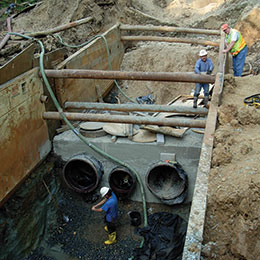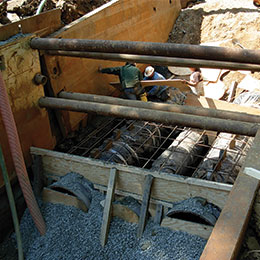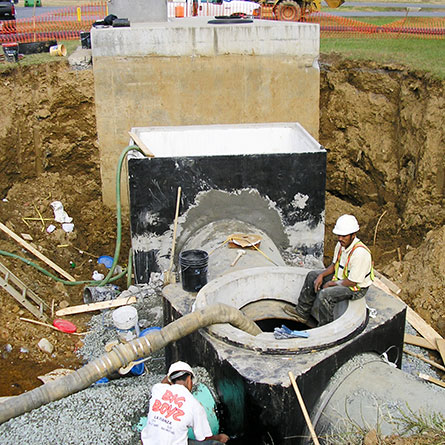 Mapping/GIS/Surveying
WRA prepared all topographic and planimetric mapping through a compilation of aerial and field developed surveys. Property research and easement plat preparation was also performed.
Collection/Gravity Sewers
The Preliminary Engineering Report, design plans, and contract documents were developed through the water/wastewater design discipline. All hydraulic modeling, project management, and pipeline design was also provided.
Structural
The project involved the design of special conveyance structures such as inverted siphons as part of Phase 1. Abandonment of existing pump stations for the new interceptor was also performed.
Highways/Roadways
The Phase 1 project involved the design of a new access roadway for the Massaponax Wastewater Treatment Plant. The design included coordination with Wastewater Treatment Plant operations and adjacent properties and land uses.
Environmental
WRA provided full environmental permitting services for each phase of the project. The project phases were broken into two separate nationwide permits and included coordination for the purchase of mitigation credits for the wetland impacts.