Ballenger-McKinney Wastewater Treatment Plant. Frederick County, Maryland.
Frederick County required additional wastewater treatment capacity to meet projected flows of 25 MGD, and planned to build additional capacity on the McKinney site adjacent to Ballenger Creek.
WRA prepared a Facility Plan which outlined a phased approach to providing additional capacity and also upgrading the plant to achieve Enhanced Nutrient Removal (ENR) levels of treatment. The first phase of the upgrade was a 15 MGD expansion employing membrane bioreactor (MBR) technology utilizing the existing biological reactor volume. The project included construction of new facilities on the McKinney site including new influent screens, influent pumping station, grit removal facility, primary clarifiers, and a new 2 mm fine screening facility. The project also included modifications to the existing biological reactors to a five stage Bardenpho process and construction of a new membrane filtration and UV disinfection facility on the existing plant site. To accommodate future expansion, all of the preliminary and primary treatment facilities were designed for the ultimate plant capacity of 25 MGD.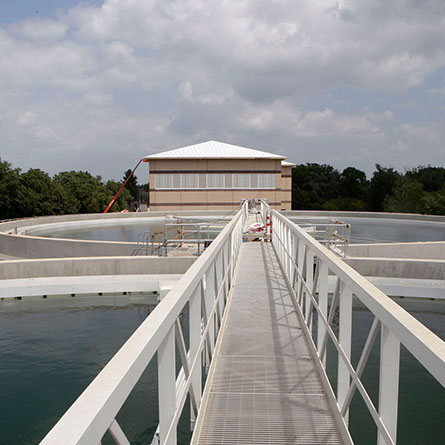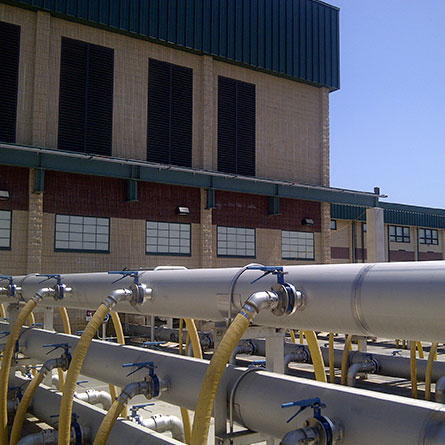 Water/Wastewater Facilities
WRA provided construction inspection services on the south side of Ballenger Creek. WRA supplied both the lead resident engineer and supporting field inspection personnel during the four year construction period.
Electrical
The power system consists of two 34.5kV utility company feeders terminating in a 34.5kV main-tie-main outdoor walk-in switchgear. The 34.5kV switchgear is provided with an automatic transfer arrangement. The 34.5kV switchgear serves three double ended unit substations for conversion to 480/277V.
Architecture
The new buildings consist of neutral precast concrete panels with dark red accent bands, and horizontal bands of semi-transparent panels. These materials produce a modern aesthetic, blend with the existing site structures and provide a unified physical appearance for the plant.
Instrumentation and Controls
The design includes a Plant Control System (PCS) providing monitoring and automatic control of all process areas communicating on a dedicated Fiber Optic network. The PCS configuration was designed to provide operator interface stations (OIS) located throughout the major facility buildings.
Structural
The upgrade included design of large concrete wastewater structures, including pile supported foundations. Structural design included steel, precast concrete, concrete masonry, and cast-in-place concrete.
SWM/Drainage/ESC Design
New stormwater management facilities included an underground sand filter and an extended detention shallow wetland.
Geotechnical
A subsurface investigation consisting of 34 borings was performed to determine on-site soil conditions and to provide foundation recommendations.
Wastewater Pumping
WRA prepared design of the influent pumping station with 25 mm screens, three 20 MGD vortex grit removal units, two 125 ft. diameter primary clarifiers, and a 2 mm fine screening facility. WRA designed underground utilities up to 54-inches in diameter.