Bailey Bridge Pumping Station and Force Main. Chesterfield County, Virginia.
WRA designed a new 40.5 MGD Bailey Bridge Wastewater Pumping Station to replace an existing under capacity pumping station.
The construction of the new Bailey Bridge Wastewater Pumping Station was in conjunction with the construction of a new 36-inch force main. The Bailey Bridge station capacity is phased through the capacity of the pumping units installed in combination with existing and new parallel force main valving. The initial phase of the pumping station included the installation of four of the six 450 Hp pumps for a safe pumping capacity of 22.5 MGD. Intermediate phases included upgrades to 26 MGD, 36 MGD and an ultimate capacity of 40.5 MGD. The pumping station configuration utilizes adjacent wet and dry well structures below grade and a common superstructure over the drywell with an outside emergency generator in an acoustic enclosure.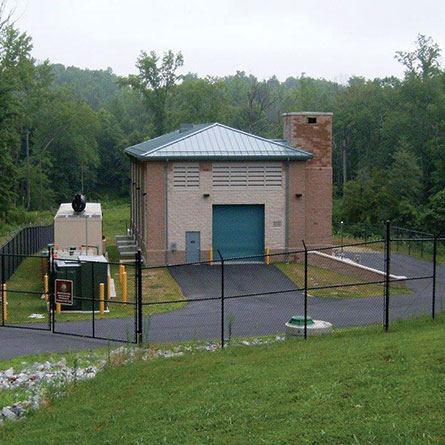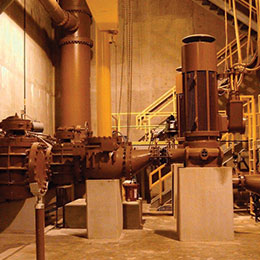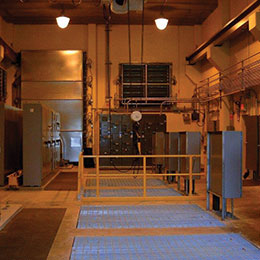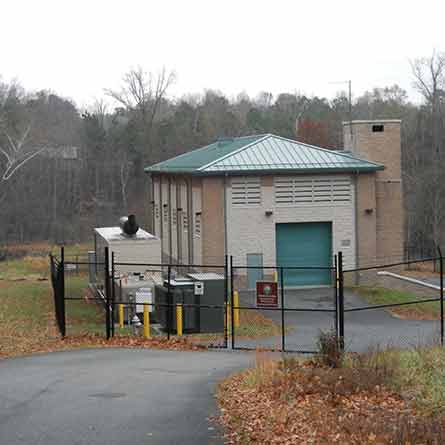 Mechanical
Design services included building HVAC components.
Structural
Structural design services included the design of the pump station wet well, station superstructure, crane hoist system and generator building.
Architecture
Architectural services included the design of the exterior components of the station. The station is located adjacent to a County school and was designed to fit in with the school facilities.
Electrical
Electrical design services included electrical feed to the station, an emergency generator and associated components, all power and electrical components for the pumps, motors and Variable Frequency Drives.
Civil/Land Development
Services included all site work and site piping including a gravity sewer and force mains. All site plan approvals and environmental permits were secured by WRA.