MD 237 from MD 235 to Pegg Road. St. Mary's County, Maryland.
The Maryland State Highway Administration advertised the dualization and reconstruction of MD 237 using design-build procurement process. The project was awarded to a design-build contractor with WRA providing engineering services.
WRA was responsible for performing final engineering services, preparing final construction documents, and obtaining approvals for the dualization and reconstruction of 2.9 miles of MD 237 from a two-lane open section roadway to a four-lane closed-section divided roadway with left-turn lanes at select intersections. Highlights of the project included the 2,200 lf of vertical profile adjustment for the replacement of undersized pipe culverts to a twin-cell box culvert; three noise walls; design of a rock ramp for fish passage; obtaining MSHA approved for use of bank run gravel for the pavement base course – a first for MSHA; design of water, sewer and gas relocations; design of the project into four construction zones to accelerate critical path construction elements (e.g. box culvert, extensive utility relocations, maintenance of traffic).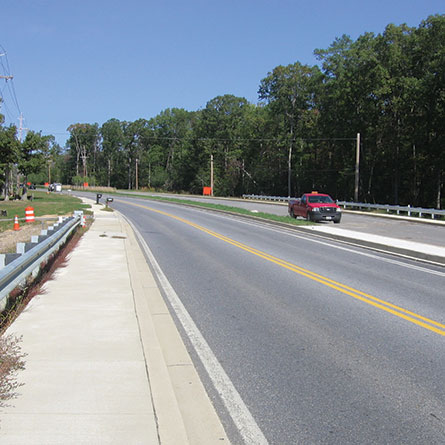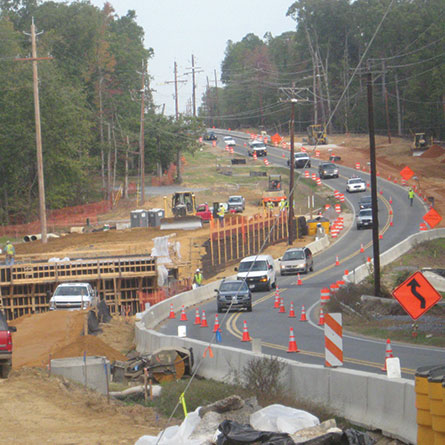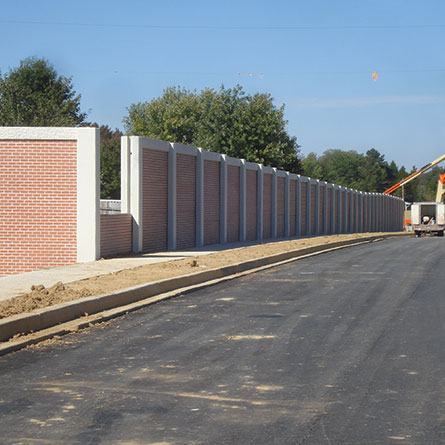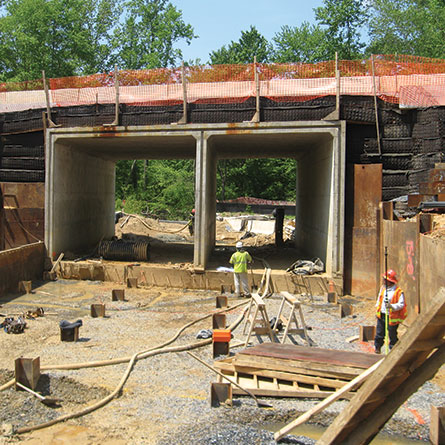 Pedestrian/Bicycle
Continuous bicycle lanes and sidewalks were provided along the entire length of MD 237 including providing ADA facilities at all intersections with audible pedestrian facilities at signalized intersection.
Water Resources
A new closed storm drain system consisting of over 13,500 LF of drainage pipe, eight new SWM facilities, and extensive phasing of erosion and sediment control was designed. A 2,200 LF portion of MD 237 vertical alignment was raised 12' to replace the undersized pipe culverts with a larger twin-cell reinforced box culvert.
Environmental
To mitigate noise impacts to residential communities, three noise walls totaling 1,700 lf were designed including the noise barrier pots supported on drilled caissons.
Geotechnical
WRA designed the foundation for the twin-cell box culvert and noise walls, provided geotechnical evaluation and design of the roadway embankments and pavement, including Falling Weight Deflectometer testing of the existing pavement. The pavement section used a bank run gravel base, local to southern Maryland, resulting in significant cost savings.
Water/Wastewater
WRA designed and installed over 10,000 LF of 12" ductile iron water pipe, 6,000 LF of 6" and 8" gas line, 350 LF of low pressure sanitary sewer line with grinder pumps. Utility coordination to relocate aerial electric, telephone, and cable was a first order effort to avoid project delays and intergration into the project design.
Traffic
WRA designed five new traffic signals, signal interconnect, relocation of a school flasher, new signing and pavement markings, and new intersection lighting. All intersections were designed to be ADA compliant and extensive MOT plans were prepared to maintain traffic along all roadways and access to driveways and entrances.
Bridges
WRA designed a twin cell reinforced concrete box culvert, 1,700 LF of noise barrier on drilled shaft caissons, and special structures including storm drain headwalls and inlets.
Highways/Roadways
WRA designed the existing roadway from a two-lane open roadway to a four-lane closed-section divided roadway with left turn lanes at select intersections. The reconstructed roadway incorporated a 5' bike lane, a raised landscape median and 5' pedestrian walkway throughout the entire limit.