Lewis F. Powell, Jr., U.S. Courthouse & Annex. Richmond, Virginia.
As the oldest courthouse in GSA's inventory, creative design solutions were implemented to upgrade the courthouse while maintaining its historic character.
Constructed in 1858, the building grew through three major expansions that continued the Italian Renaissance style on the exterior and resulted in a city-block size courthouse. The 1930s expansion resulted in the neighboring Art Deco style annex, which is connected underground and by an aerial bridge. Through a variety of studies, which resulted in construction projects, WRA achieved GSA's goals through extensive field surveys, engineering studies, programing and space planning, energy studies, sustainable design, and historic preservation planning for a variety of different architectural and engineering projects.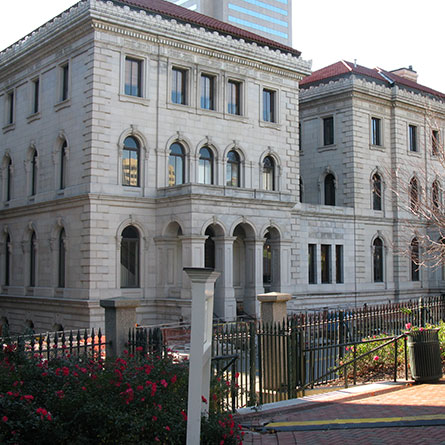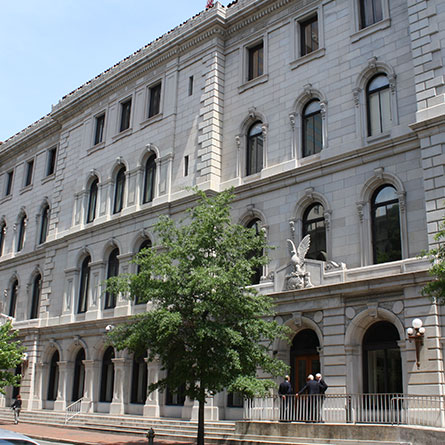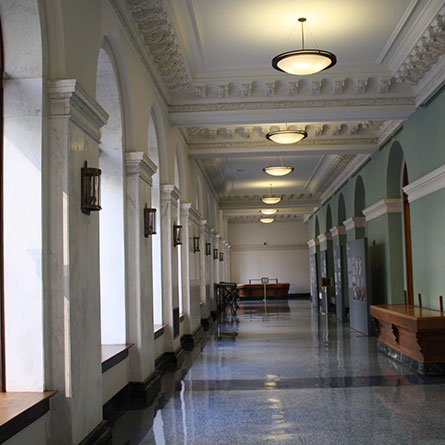 Architecture
Window rehabilitation and perimeter security were upgraded consistent with GSA's commitment to stewardship of historic buildings. Thermal improvements achieved sustainable requirements while maintaining the historic profiles of the windows. WRA worked with the US Marshall Service to design a secure perimeter.
Interior Design
Working with U.S. Courts design guides, WRA developed a 21,000 SF suite for the Office of Staff Counsel. The space features high ceilings and abundant natural light. Finishes are compatible with the historic features, such as plaster walls and heavily detailed wood trim.
Historic Preservation
Existing historic materials were preserved and protected. Architectural preservation specifications were prepared.
Mechanical
The design resulted in the improved overall energy efficiency for the building by replacing the multiple constant volume units with three new centrally located VAV AHUs.
Fire Protection
WRA designed fire alarm and notification system replacement for this GSA courthouse. Design complied with P-100 requirements and was closely coordinated with GSA personnel and historical architects to respect historic elements. Extensive field survey supported precise routing of conduit through the building.
Protective Design/Security
A preliminary security improvement plan was developed, including a crash-rated bollard perimeter and knee walls along the north side of the courthouse to maximize standoff to the building and to eliminate curbside parking.
Technology
The technology infrastructure was assessed and recommendations were made for the replacement and relocation of cabling and devices for areas affected by the renovation. Sketches were issued to provide direction for modifications to network cabling infrastructure.