Havre de Grace Water Treatment Plant Solids Handling Facility. Havre de Grace, Maryland.
Harford County and the City of Havre de Grace cooperated to jointly fund, construct and operate this solids handling facility that serves the adjacent water treatment plants.
WRA designed this facility to jointly serve the County WTP rated for 6 MGD (with future expansion) and the City WTP rated for 4 MGD. The evaluation phase involved reviewing past studies and records and developing a sampling and testing program to quantify the residuals flow rates and solids production rates. Assistance and coordination for on-site piloting of various dewatering technologies was also provided. The proposed facilities have incorporated maximum flexibility and redundancy such that both WTPs can individually process the maximum projected washwater flows and solids production. The project design included decant pumping facilities, renovations to two washwater tanks for operation as settling/decant tanks, new NPDES permitted outfall for the decant flow, settled solids pumping and rotary drum thickening, thickened solids storage and pumping, centrifuge dewatering, solids handling building and standby generator to serve new facilities.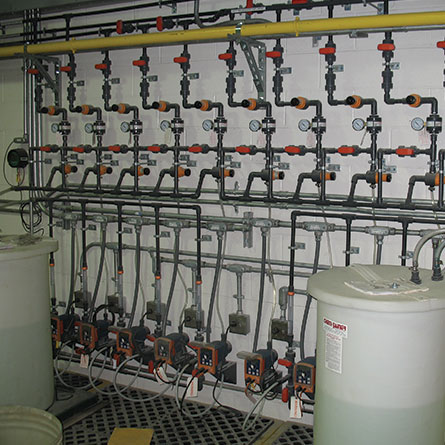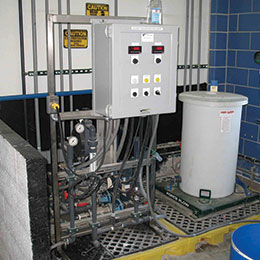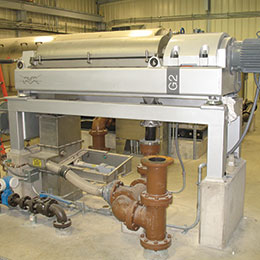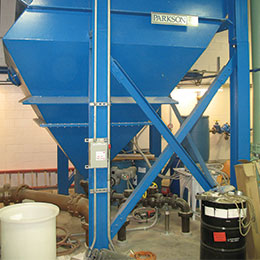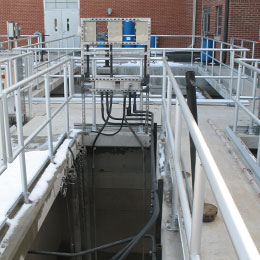 Architecture
The architectural design incorporated building height requirements to suit entrance of dump truck trailers in the lower level and bridge crane operation in the second level while simultaneously creating an exterior sensitive to the historic waterfront environment.
Environmental
Chesapeake Bay Critical Area (CBCA) permitting was required due to the site proximity to the Bay. The original design concept to restore parking spaces was adjusted to include additional grassed areas for impervious area reduction.
Water Quality Permitting
Clarified effluent is directed to the Bay via an existing storm drain outfall and in accordance with a new NPDES permit. A dechlorination system was provided to ensure the effluent has non-detectable chlorine and turbidity monitoring equipment confirms suspended solids below 30 mg/l.
Instrumentation and Controls
Redundant instrumentation and controls were designed so that the County and City each were able to control the operation of their own portion of the facility. Secure logins were incorporated to track changes made to operational parameters.