Grade Separation of MD 450 at CSXT Railroad. Bladensburg, Maryland.
The project eliminated an existing grade crossing between CSXT's main north-south track, carrying approximately 26 freight trains per day, and a major commuter route, MD 450, carrying over 38,000 vehicles weekly.
Featuring the first ever use of augered cast-in-place concrete piles by the Maryland State Highway Administration, the Grade Separation of MD 450 at CSXT Railroad includes 1.24 miles of CSXT Railroad track, four bridges and eight retaining walls. The project provided grade separation of CSXT's track from two important public grade crossings, MD 450 and Upshur Street, in the center of Bladensburg. Traffic now flows freely through the MD 450 corridor without being interrupted by passing trains, thus reducing congestion, enhancing safety, and improving the response of emergency services.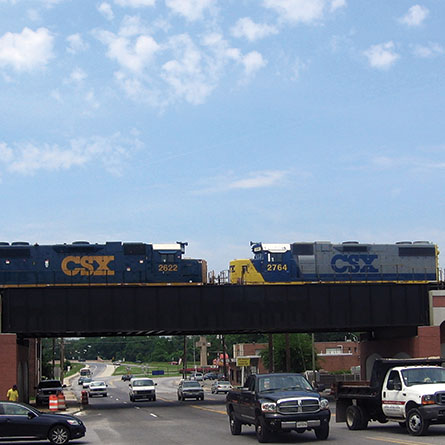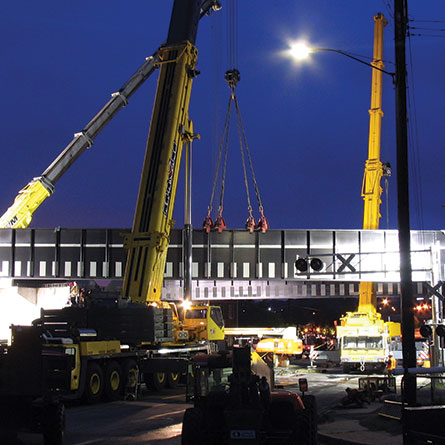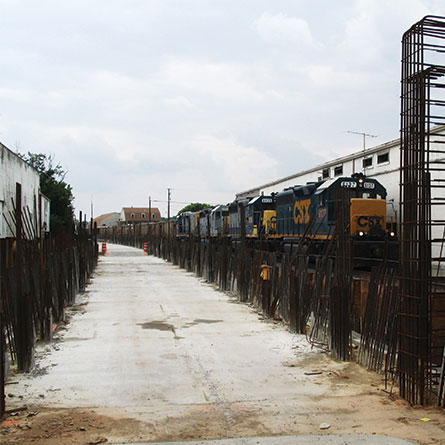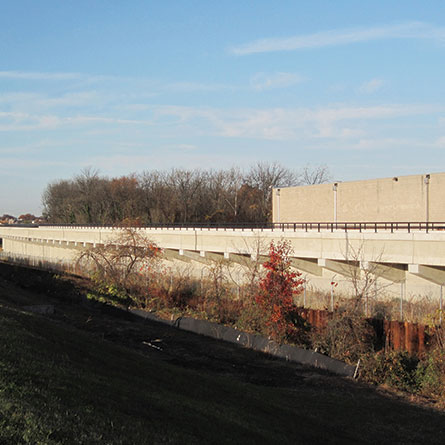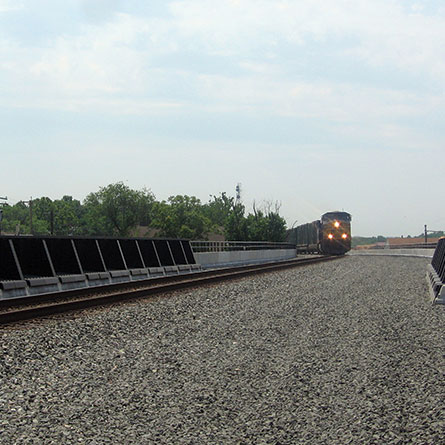 Mapping/GIS/Surveying
Surveying services for the MD 450 project consisted of boundary surveys to locate existing right of way lines, and topographic surveys of the existing conditions. All survey work was performed based on traverse control tied by GPS to the Maryland State Plane Coordinate System (NAD 83/91) and to bench marks based on NAVD 88 datum.
Bridges
The design of two thru-girder bridges each having a span of 95 feet, and permanent and temporary multiple steel beam bridges with span lengths of 28 feet and 21 feet, respectively, as well as the design of an 1,800 foot long permanent steel sheet pile wall to support the temporary track. To limit their foundation footprint, the retained fill structures used reinforced concrete overhang brackets approximately 8'-10" long to support a portion of the 45 foot wide track section between parapets. An
Geotechnical
WRA geotechnical engineers developed the subsurface investigation program for the proposed grade separation. Geotechnical and foundation recommendations included the use of structural geogrid to provide additional strength to the subgrade. Foundation elements were chosen to reduce noise and vibration impacts of a historic church located in close proximity to the project.
Water/Wastewater
Civil services included the facilitation of a utility test pit program (58 test pits) to locate utilities within the project's limits, coordination of utility relocation for the fiber optic cable and 42" sanitary sewer running parallel to the railroad tracks, coordination of the utility relocations/modifications for underground and overhead utilities along MD 450, Upshur Street, and four additional grade crossings located within the project limits.
Railroads
WRA designed 1.2 miles of temporary track, the re-alignment of 1.2 miles of permanent track and track throws to switch freight rail service from existing to temporary track and temporary to permanent track.
Highways/Roadways
WRA developed vertical and horizontal alignments for the proposed and temporary tracks, right-of-way plats for required right-of-way and easement takes, sight distance and safety studies at intersections within the project's limit, and the design of four grade crossings between municipal streets and CSXT railroad.
Water Resources
WRA designed storm drain systems, three dry swale stormwater management facilities, three sand filter stormwater management facilities, three off-site bioretention low-impact development facilities to mitigate impacts within the Chesapeake Bay Critical Area, and erosion and sediment controls.
Environmental
WRA evaluated alternatives to minimize impacts to environmental features, coordination with MSHA to obtain permits, the acquirement of approval from the State of Maryland Critical Area Commission for impacts within the Chesapeake Bay Critical area, and on- and off-site mitigation.