Back River Wastewater Treatment Plant (180 MGD) Sludge Thickening Facilities Expansion. Baltimore, Maryland.
Existing sludge thickening facilities required expansion to handle the increasing solids production and to provide a more concentrated sludge for more efficient stabilization in the egg-shaped anaerobic digesters.
WRA evaluated alternative methods of sludge thickening, prepared designs and contract documents and provided engineering services during construction for a new gravity belt thickener facility, one of the largest in the United States. The goal of the project was to provide a facility capable of producing a thickened sludge solids content of 8 - 10% to enable enhanced stabilization in the egg-shaped digesters. Evaluations concluded with demonstration testing of three thickening methods: gravity belt, centrifuge and rotary drum. The evaluations indicated that gravity belt thickening was most cost-effective. Final design and preparation of plans, specifications and other contract documents included: eight 3-meter gravity belt thickeners, waste activated sludge surge tank, chemical systems, thickener feed pumps, thickened sludge pumps, sludge blending and storage tanks, 60,000 cfm odor control systems, process piping, and electrical controls and instrumentation system.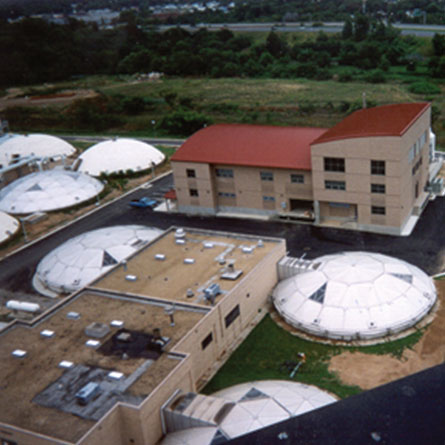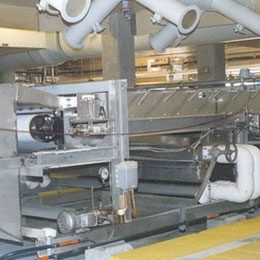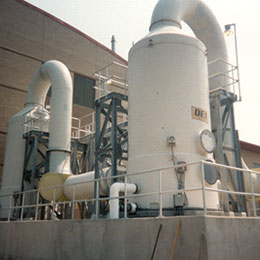 Biosolids and Residuals Handling
Evaluation of alternatives included planning and demonstration testing to confirm the selection process and develop process design criteria and performance requirements. Process design included sludge equalization, blending, sludge feed, thickening, chemical conditioning, thickened sludge conveyance and odor control.
Mechanical
Design included the three level Gravity Belt Thickener (GBT) Building with process and administrative areas, laboratory and odor control facilities.
Electrical
Electrical designs were prepared by an MBE subconsultant. WRA provided design guidance and supervision, conducted design workshops and performed QA/QC review.
Instrumentation and Controls
Design included plant process control system and interconnected instrumentation for sludge equalization, blending, sludge feed, gravity belt thickening, chemical conditioning and thickened sludge conveyance.
Civil/Land Development
Design included inter-process connecting piping systems, plant service utilities, stormwater collection and conveyance, valve structures and utility relocations to accommodate the new facilities. Site design included grading, paving, sediment and erosion control, stormwater management, permitting and related services.
Structural
WRA prepared designs for the GBT Building, Odor Control Facility and Sludge Surge Tank. The Gravity Sludge Thickener Odor Control Facility was designed by a WBE subconsultant. WRA provided design guidance, supervision, and conducted design workshops and QA/QC review.
Geotechnical
Design included developing a boring plan for the facilities, engaging a driller, witnessing the soil boring operations and preparing a geotechnical report with basis for the foundation design for each structure.