US 301. New Castle County, Delaware.
When Delaware required innovative engineers to design a complex section of its new signature freeway in an environmentally sensitive area, they turned to WRA.
The new toll freeway will connect US 301 in Maryland with SR 1 at the Delaware & Chesapeake Canal, providing an alternate route for east coast traffic, fostering local economic growth, and increasing safety in the US 301 corridor. WRA's 5.5 mile freeway design features a new interchange with SR 1, which merges traffic from US 301, SR 1's EZ-Pass lanes and cash toll plaza, and a ramp from US 13. A new interchange with roundabout intersections is proposed at Jamison Corner Road; significant work is proposed on several local roads. Careful project design helped DelDOT keep construction costs low, and the project team developed a light project footprint at freeway crossings of the sensitive Scott Run watershed, including use of resource-spanning bridges and environmental restoration of a segment of stream disturbed by centuries of human use.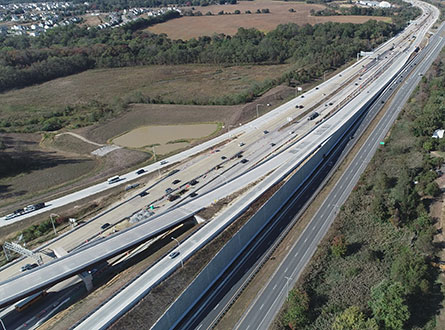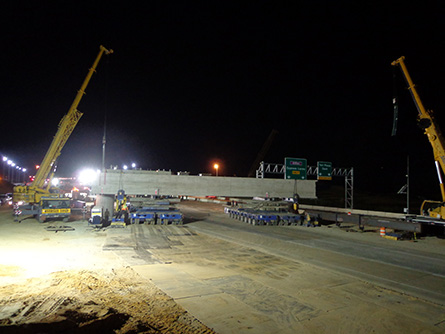 Mapping/GIS/Surveying
In addition to providing targeted ground control for aerial photogrammetric mapping, WRA performed detailed precise surveys along a portion of SR1 for the future tie in of the two roadways. These surveys were performed at night with maintenance of Traffic support from the Delaware Department of Transportation and the Delaware State Police.
Geotechnical
WRA developed supplement subsurface investigation programs, provided analyses and foundation recommendations for numerous bridges and retaining walls, and provided recommendations for proposed new fills. Lightweight fill was proposed to minimize impacts of a new embankment over an existing utility and settlement plates were proposed to monitor settlement of embankments near proposed bridge abutments.
Highways/Roadways
Roadway horizontal and vertical designs were optimized to control project cost while meeting all DelDOT criteria. The capacity of US 13 was increased to accommodate projected traffic. WRA also evaluated required earthwork, produced right-of-way plans, and engaged in extensive utility coordination.
Bridges
US 301 structures design consisted of four new waterway crossings, three new highway overpass structures, one existing bridge widening and over 2600 linear feet of retaining walls. The design effort also included various drainage structures, barrier walls and structural slabs.
Traffic
Maintenance of traffic design and a transportation management plan were completed for multiphase construction in 4 different construction contracts. CCTV, radar traffic detectors, dynamic message signs, weather stations, roadway lighting, signing and pavement markings were designed for WRA's 6 mile long section with 2 interchanges.
Environmental
Careful design minimized effects on streams and wetlands, and managed project elements to avoid impacts to the water table, maintaining existing hydrology. Stream restoration and reforestation will provide additional habitat for wildlife, and a wildlife crossing structure will maintain migration patterns.