US 29 Sweet Briar Interchange. Sweet Briar, Virginia.
The complex interchange connects the Madison Heights bypass to existing US 29 and separates the bypass traffic from the local US 29 Business traffic. The bypass project received the ACEC/VA Honor Award.
The unique interchange design provides directional ramps connecting the bypass to existing US 29 to the south while also providing full access to the Town of Amherst to the north. The design includes providing a continuous US 29 Business Route through the interchange to completely separate the local low speed traffic from the high speed freeway traffic on the bypass. The project includes the design of three bridges over the bypass and the relocation of one mile of Norfolk Southern mainline track with two railroad bridges. The project was noted by VDOT to be one of the most complex projects in Central Virginia. The interchange is located in the floodplain of Rutledge Creek requiring extensive analysis for the extension of existing and proposed box culverts.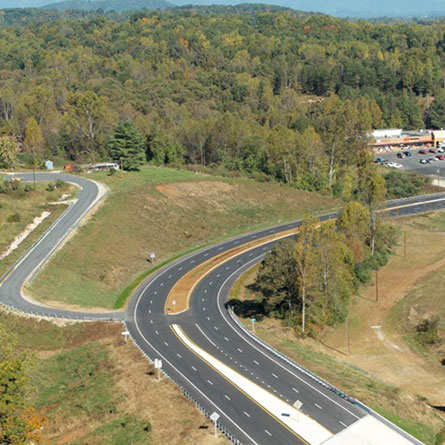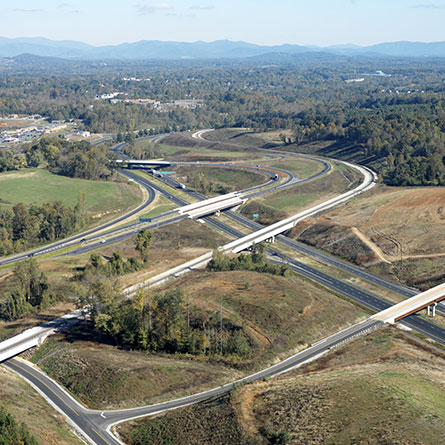 Highways/Roadways
The roadway design included 1.25 miles of four lane divided freeway for the bypass and one-mile of US 29 Business. The interchange consisted of six ramps with complex geometry to vertically connect the ramps to 29 Business while the bypass passes under the railroad.
Railroads
The project relocated approximately one mile of mainline Norfolk Southern (NS) track to accommodate the proposed interchange. Design includes two NS rail bridges the largest a 452' three-span skewed structure with simple deck plate girder spans of 133' – 150' – 169'.