Sydney L. Christie Courtroom. Huntington, West Virginia.
The magistrate courtroom's outdated appearance and ineffective layout was renovated into a well-designed space with character-defining features.
Located within the 1907 Sydney L. Christie Federal Building U.S. Post Office and Courthouse, the courtroom was no longer functional; it had inadequate lighting levels, inappropriate acoustical performance, improper layout, and a challenging circulation. WRA reconfigured the judge's entrance and jury box and updated courtroom furnishings. Woodwork was carefully detailed to be compatible with historic features of the building. Sound absorption was integrated into ceiling and wall panels. The lighting was enhanced with chandeliers, similar to the previous historic renovations. In addition to architectural and interior design, electrical, mechanical and AV systems were included. The project was recognized as a great collaboration among GSA, the US Courts and WRA.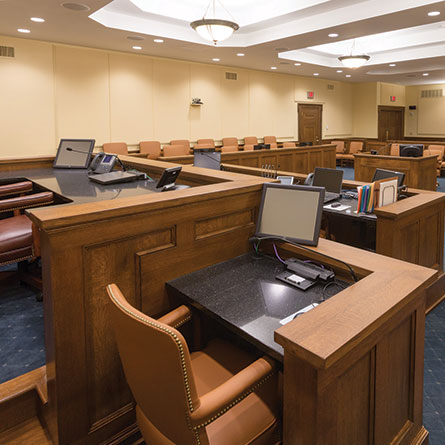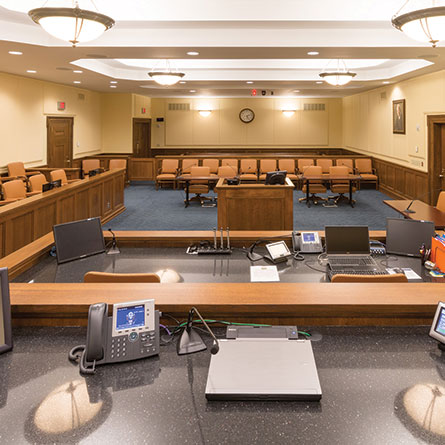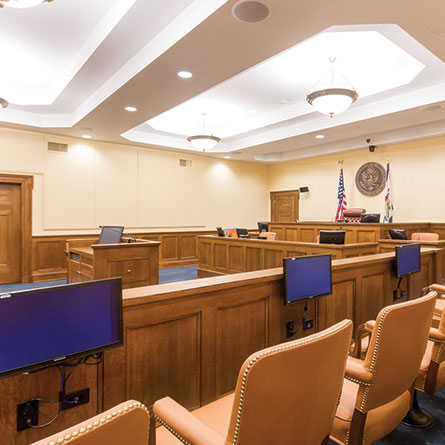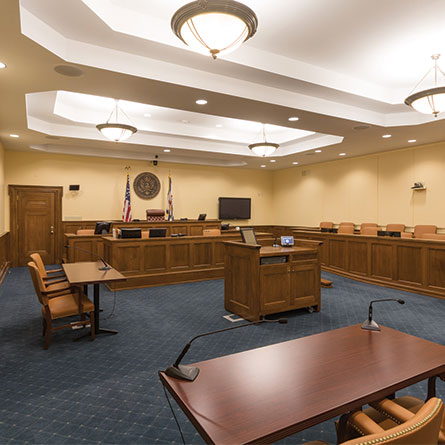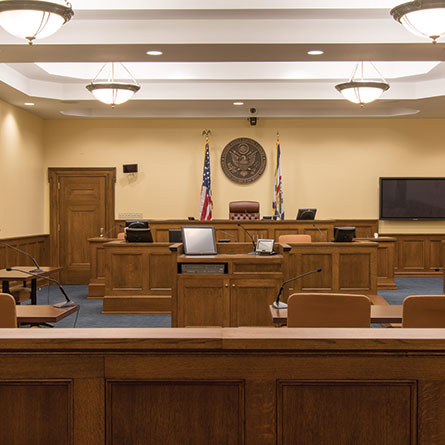 Architecture
The magistrate courtroom was transformed to be compatible with original features of the 1907 courthouse. A carefully detailed ceiling accomplished both aesthetic and acoustical objectives. The bench and jury box were reconfigured. ADA improvements included a ramp to access the witness box.
Interior Design
Furnishings and paneling were carefully detailed to be compatible with historic elements and finished to match the existing red oak woodwork. Elegant pendant lighting and a bronze seal were featured. Juror and counsel chairs were reupholstered and new counsel tables were specified.