SR-54 Roadway Keen Wik Road to Bridge 3-437. Sussex County, Delaware.
SR 54 is a hurricane evacuation route for Fenwick Island and Ocean City, Maryland, which flooded during two year storm events.
The project reconstructed a 2-mile section of State Route 54 in Sussex County, DE and raised the elevation of the roadway with reinforced earth fill and two segmental viaducts just outside the coastal Town of Fenwick Island. The elevated roadway provides flood relief to emergency service vehicles and the traveling public by eliminating road closures during severe storms. Maintenance of traffic and environmental coordination and permitting were critical issues due to the project location relative to the adjacent resort businesses and surrounding coastal areas of the Assawoman Bay.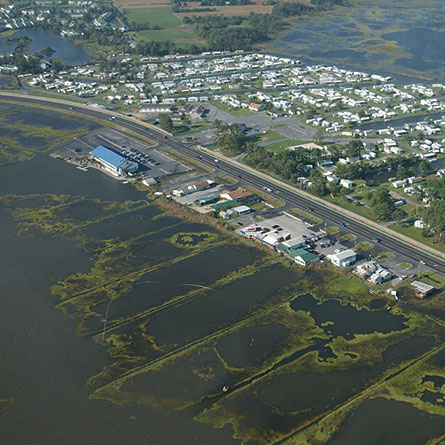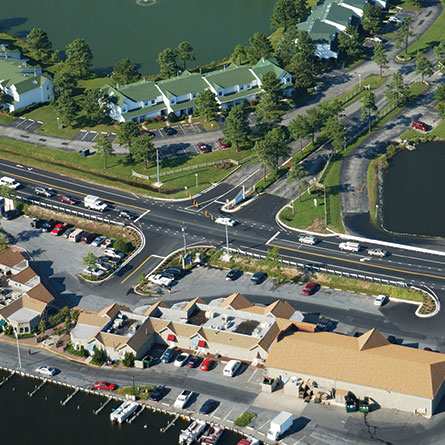 Highways/Roadways
WRA performed 3D modeling of new horizontal and vertical alignment including superelevation and typical section development. A new intersection to tie into frontage road was also included.
Traffic
The project included signing and pavement markings, ITS installation, lighting and signal upgrades. A new signal was placed at the new intersection with the frontage road. Traffic was maintained during phased construction except for two week detour.
Environmental
The environmental baseline existing conditions discussion evaluated impacts to wildlife fish species, threatened/endangered species, tidal wetlands and waterways, navigable waterways, soils and protected farmlands, water quality, noise levels, cultural resources, section 4(f) public lands, coastal zone management areas, and community impacts.