Social Security Administration Annex Building. Woodlawn, Maryland.
The renovation of the 400,000 SF SSA Headquarters Annex Building creates a proud new exterior public image, a modern interior with flexibility to meet changing technology, and a daylighted work place, toward becoming GSA's first-ever LEED Certified building.
Upgrading this 1960's building required demolition back to its original structural frame. From this, a government agency responsible for benefits to millions required a new modern work place to encourage collaboration among staff, new building systems to promote a healthy interior environment, and new infrastructure to meet their technology transformation. Raised access flooring provides flexibility for furniture systems, reconfiguration and data cabling. Headquarters to the Social Security Administration, space standards were developed, work flow between departments determined, and campus amenities incorporated. At the core of the building's connection to the campus circulation spine, a new food service and dining space is a place to gather and refuel.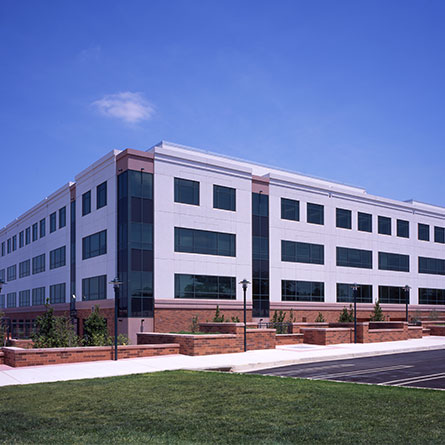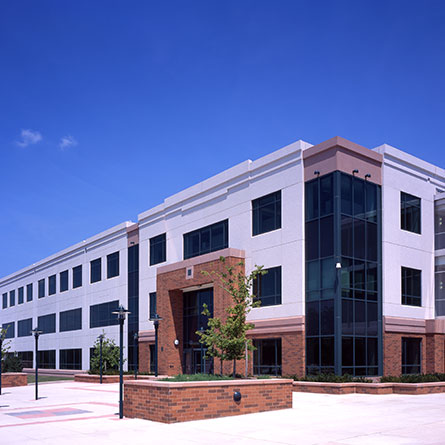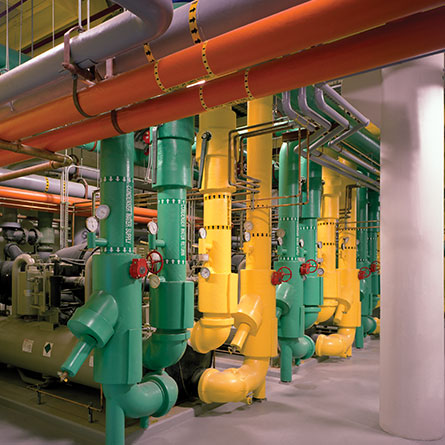 Architecture
A new exterior façade redefined this building's architectural vocabulary, massing and proportions. Entrances express stability and strength of this public service agency, while the interior was transformed to meet a new organizational structure, open office environments, active circulation paths and flexibility.
Interior Design
Daylight was used as a guide along primary circulation paths between administrative, conference, gathering and building core areas. Features include re-use of the marble in elevator lobbies, carpet tiles, up-lit seamless ceilings, terrazzo flooring, and glass block accents.
Civil Land/Development
Site design and environmental planning addressed utility infrastructure, roadway, walkway, site furnishings and landscaping features. Our efforts also included consideration of employee parking, public transportation connector and federal and agency security concerns.
Mechanical
Design incorporated energy savings technology including thermal storage and low temperature air distribution. The 1,200 ton plant provided 4,500 ton-hours of ice storage. The 30 percent reduction in cooling plant size allowed ice storage to be provided for no additional cost.
Sustainability
This project was the first General Services Administration facility in the country to achieve LEED certification. Thermal ice storage systems were utilized to achieve energy savings of 12.8% over ASHRAE 90.1-1999, and the existing building frame and vertical circulation were reused.