Rochester Roundabout. Rochester Borough, Pennsylvania.
The Rochester Roundabout was part of a statewide effort to link transportation and the surrounding community. It was the first roundabout on a State Highway in the Pittsburgh Region.
This project was identified as one of the top priorities in the Rochester Transit Revitalization Investment District (TRID) Study and was considered key to redevelopment within Rochester Borough. The project involved analysis, design, and construction services to improve traffic flow, reduce congestion, provide pedestrian facilities, and spur economic development in Rochester's CBD at the nexus of a complex, heavily congested 5-legged intersection. Unique elements included developing traffic models using VISSIM software to determine current/future needs for the study intersection and detouring most of the traffic around the intersection during construction in order to open the project to traffic sooner. Promotional fliers and videos were produced in order to help new users of the intersection safely navigate the intersection whether on foot, in a car, or driving a tractor trailer.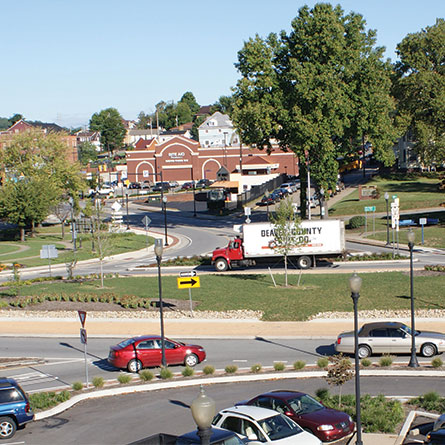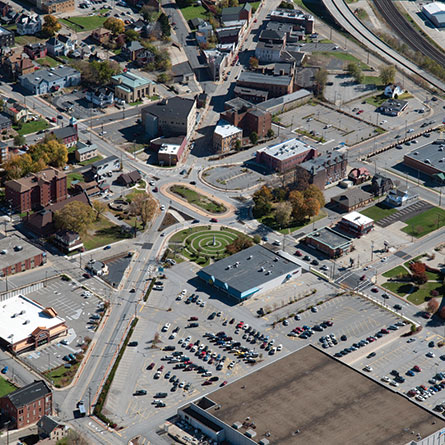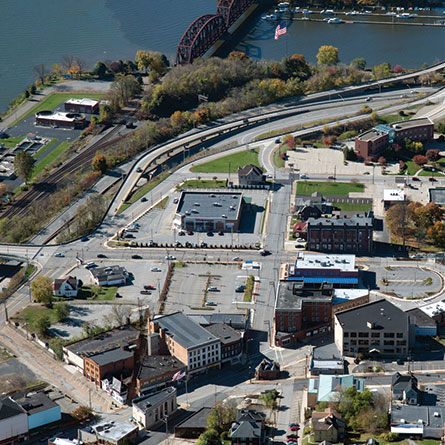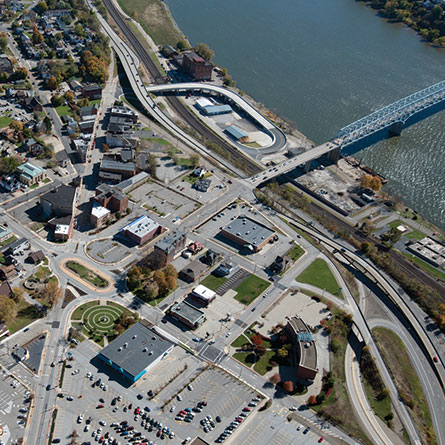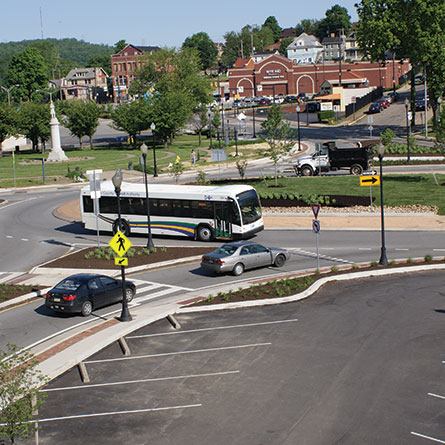 Traffic
Traffic tasks included data collection, capacity analysis, design, and writing an intersection improvement feasibility study. WRA developed traffic models using VISSIM, Sidra, and Synchro software to determine current/future needs for the study intersection and evaluate Smart Transportation improvement alternatives.
Highways/Roadways
The design involved developing geometry for a complex 5-legged roundabout in a highly developed urban area while also considering constructability and maintenance of traffic during construction. Our engineer's cost estimate was within 1% of the construction bid.
Water Resources
WRA designed the erosion and sediment controls, storm sewer system, and storm water management facilities including water quality inlet filters. WRA's design increased green space by 40% and reduced runoff into the combined sewer system by diverting water to a dedicated storm sewer.
Pedestrian/Bicycle
The project involved designing sidewalks and ADA compliant pedestrian facilities which integrated with the existing urban context. Design elements included decorative sidewalk paver bricks and ornamental period lighting to compliment the surrounding area.