Research/Training Center (Building 120). Aberdeen Proving Ground, Maryland.
As part of a nation-wide network for development of the US Army's next generation of land-based vehicles, Building 120 houses computer arrays for virtual reality testing.
The design challenge was to adapt this 1942 building, used for hypersonic wind tunnel testing during World War II, into an interactive testing facility for weapons and conceptual vehicles. The US Army conducts research and testing in real time with outposts scattered throughout the country to formulate innovative combat techniques. Building 120 was outfitted with a theater, offices, and conference/training rooms. The project included retaining the 75,000 SF shell, replacing all systems and finishes, and complete FF&E.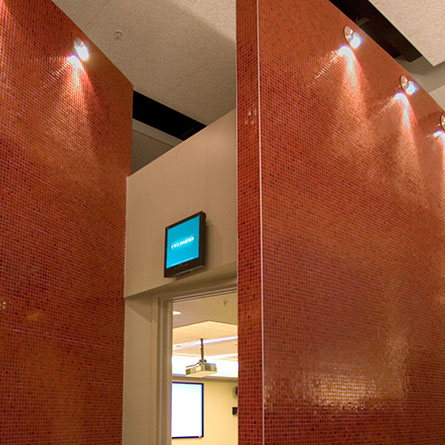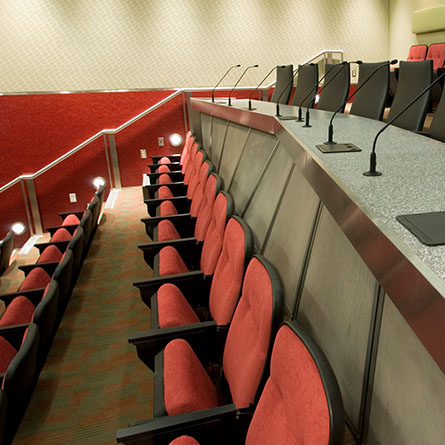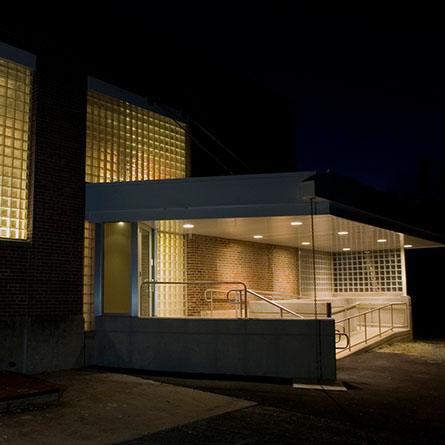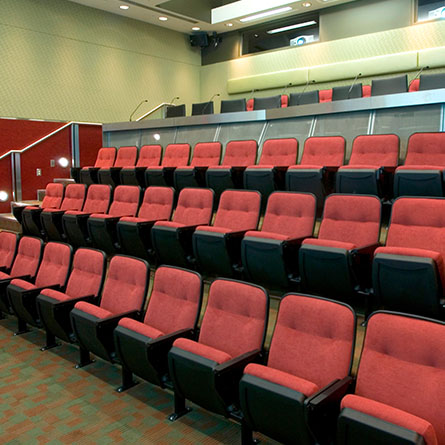 Architecture
The architectural challenge was to adapt a WWII building into a state-of-the-art, 21st century facility. The historic 75,000 SF envelope was reinvigorated, while building cores, systems and exterior openings were replaced. The improvements allow for program flexibility well into the future.
Interior Design
The interiors and finishes for this facility reflect the history of the world's first hypersonic wind tunnel. Murals that enliven the public spaces, for instance, use enlarged archival photographs to show the importance of the building's former life to its new users.
Electrical
An outdoor 34.5kV-480/277V transformer serves indoor 480/277V switchgears. Feeders were extended to panelboards. A standby 2500kVA generator was provided to serve the total load. A 300kVA UPS was provided to serve frame units and associated racks.
Fire Protection
WRA designed phased fire sprinkler and alarm systems for this multi-function, structurally complex building with data center, test lab, administrative, and vehicle testing functions. The phased design and structural constraints required careful code analysis and provisions for system expansion.
Mechanical
Designed two oil/gas fired hot water boilers and two air cooled chillers with primary/secondary pumping for both systems. HVAC systems are VAV units to VAV terminals. In the office area an underfloor air distribution system was designed with underfloor terminal units.
Mapping/GIS/Surveying
Surveys were done for building and utility improvements. Survey control was tied to existing APG control monuments based on UTM Zone 18 coordinates. Survey data was processed to develop a 3D model. The surveys were processed in AutoCADD using USACOE standards.