Ohiopyle Streetscape, SR 381 Improvements. Ohiopyle Borough and Ohiopyle State Park, Fayette County, Pennsylvania.
The Ohiopyle Streetscape was recognized with the 10,000 Friends of Pennsylvania's 2012 Community Transportation Excellence Award.
The Ohiopyle Streetscape demonstrates Smart Transportation policy and the importance of community transportation practice in creating healthy, sustainable communities. WRA was responsible for all design tasks for this roadway widening project to accommodate bike lanes, parking lanes, landscaping, traffic calming signage, as well as the design of improvements to the general streetscape, sidewalks, crosswalks, and other miscellaneous construction along SR 381, which runs through Ohiopyle State Park. This project was completed in cooperation with Pennsylvania Department of Transportation Engineering District 12-0 and the Redevelopment Authority of the County of Fayette. Construction was funded through a PennDOT Pennsylvania Community Transportation Initiative (PCTI) grant, and was completed in August 2011.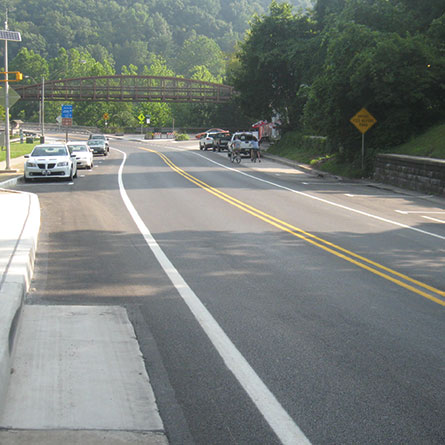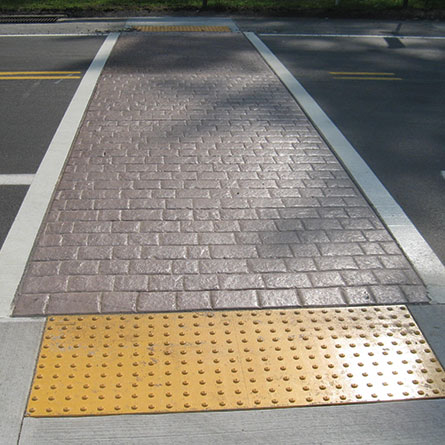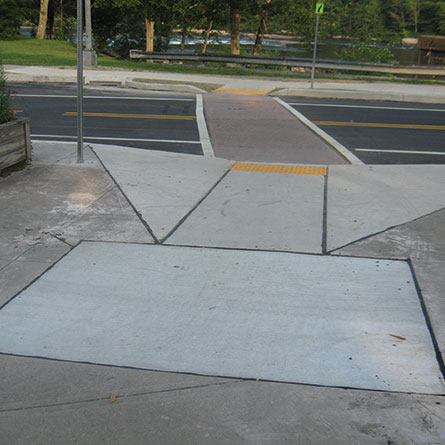 Highways/Roadways
WRA led the design that involved the widening of SR 381 to add parking lanes and bike lanes through the Ohiopyle State Park area. The design also included the development of ADA Ramps and crosswalks as well as drainage design and utility coordination.
Traffic
WRA developed the maintenance and protection of traffic to allow tourists full access to the park during construction. The maintenance and protection of traffic was coordinated with Ohiopyle Borough and Ohiopyle State Park to ensure the safety and mobility of tourist and locals.
Pedestrian/Bicycle
The project involved the addition of ADA facilities and bike lanes along the corridor. Curb ramps and crosswalks allow easy access between Ohiopyle Borough and Ohiopyle State Park. The bike lanes provided a clear path through the corridor with the state park having over 50 miles of biking trails.