Mulligans Hill Lane Retaining Wall Replacement. Ellicott City, MD.
In 2011, the 100 foot long 25 foot tall wall supporting St. Paul's Church of Ellicott City, MD collapsed during Tropical Storm Lee crushing six vehicles.
WRA provided an emergency response assessment to determine if the church building needed to be evacuated. WRA was then tasked with the design of the replacement wall to support the historic church building and restore roadway access on Mulligan's Hill Lane below. WRA relied on years of experience in slope stabilization as well as expertise in deep foundation design to engineer a solution suitable to Howard County the Archdiocese of Baltimore, the Historic Commission, and Elliot City Merchants. WRA surveyed and monitored both the building and surrounding ground after the collapse through construction. The solution involved a combination of nailing and grouting to create a stabilized rubble buttress as SOE. A drilled in pile and lagging wall was utilized as the final structural wall which was wrapped with a stone facade to balanced spatial and historical constraints.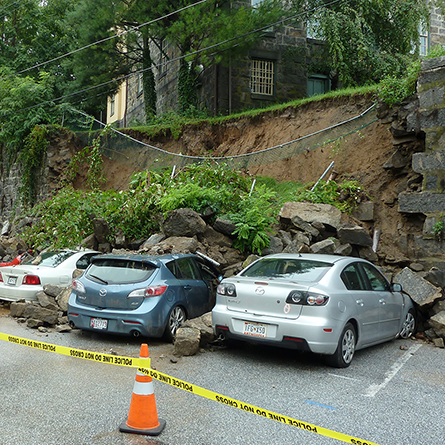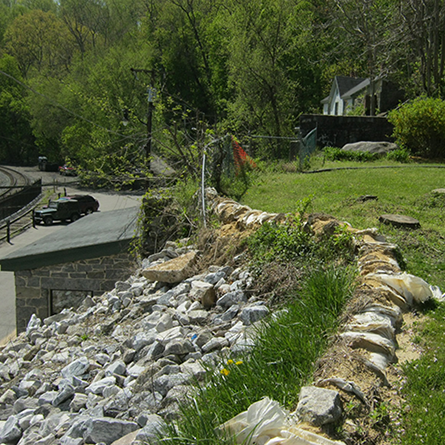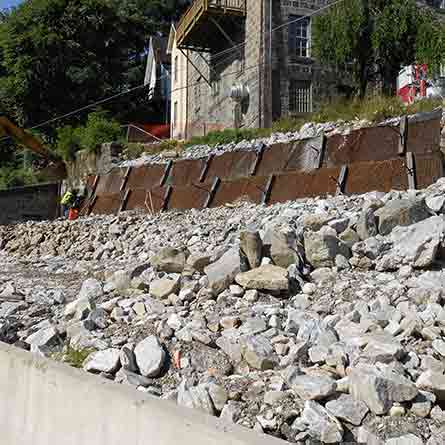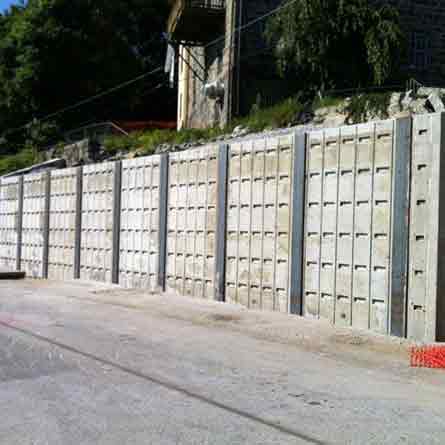 Geotechnical
WRA provided geotechnical design services for the soldier pile and lagging retaining wall system. Our geotechnical engineers also provided options for supporting the historic building during excavation of the emergency repair stone buttress and construction of the permanent wall.
Structural
WRA provided structural design services for the soldier piles and the precast and cast-in-place concrete lagging panels to provide support for the permanent wall system. Our structural engineers coordinated with our geotechnical engineers to design the most efficient structural system possible.
Traffic
WRA developed traffic plans and a construction sequence to provide residents with full-time access to their homes during the work. The final design maximized the number of available parking spaces, critical to the vibrant tourism industry associated with Ellicott City, MD.
Construction Management
WRA provided construction inspection support to the County on this project including a fulltime resident engineer. We also provided a geotechnical engineer for on-site oversight of the slope stabilization work and the soldier pile installation. WRA reviewed all shop drawing submittals.