Montebello Water Filtration Plant 1 Improvements. Baltimore, Maryland.
Improvements for the 100-year old Montebello Plant 1 to extend its useful service life and improve operations and maintenance are the latest of multiple projects designed by WRA for this site.
Montebello Plant 1 is designed for a maximum flow rate of 155 MGD and treats an average of 89 MGD. This plant is operated in conjunction with the adjacent Plant 2 which has a maximum flow rate of 126 MGD with an average capacity of 85 MGD. The plant utilizes conventional coagulation, flocculation, sedimentation and filtration treatment followed by disinfection. The initial project phase will significantly improve the electrical distribution and reliability of the site and includes a standby generator capable of supplying power for both Plants 1 and 2. The second phase includes a new liquid coagulant facility, new flocculation systems, filter enhancements, concrete repairs, new post lime facility, new secure entrance facilities and other improvements to extend the facility's useful life while improving operations and maintenance.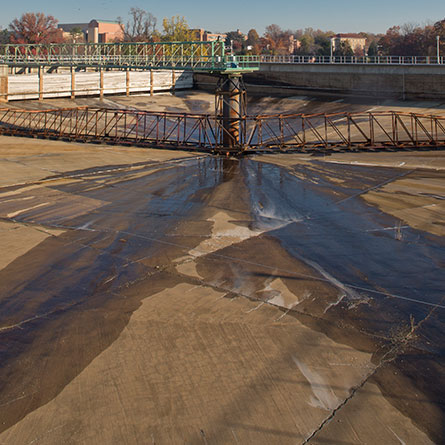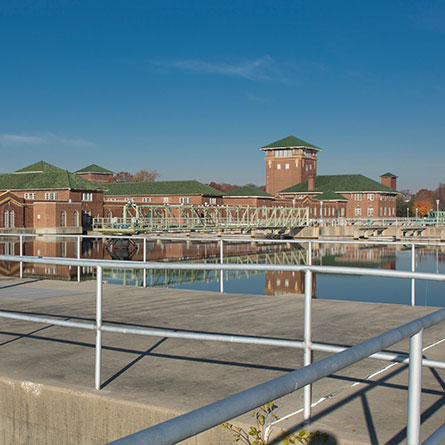 Civil/Land Development
The existing entrance was outdated and lacked appropriate facilities to address security concerns and traffic circulation requirements. The new entrance will include dual entrance lanes, a permanent security building and access controls.
Architecture
Due to the unique and historical nature of the architecture of the existing buildings, care was taken to complement the existing style. The coagulant and flocculator buildings will mimic the current style while the entrance gatehouse design will provide a contrast.
Electrical
Major upgrades of the electrical distribution system, including new 13.2 kV distribution network and standby generator sized to supply the entire Plant 1/Plant 2 complex greatly improved the electrical reliability of the water treatment facilities.
Water Treatment
Process enhancements were selected to enhance ability to meet water quality regulations (such as relocation of the chlorine disinfection point from raw water to pre-filter), to reduce operational and maintenance problems and to address aging infrastructure issues.