MD 32 – From Linden Church Road to I-70. Howard County, Maryland.
WRA was the designer for this $85M design-build project that included dualization of six miles of MD 32 from a 2-lane roadway to a 4-lane dualized highway.
Selection for this contract was based upon a fixed price with a variable scope. WRA, as part of the design-build team, was selected based on a proposal that included the maximum possible continuous 4-lane dualized roadway miles to address the more than 75% increase in ADT projected by 2040.  The design-build team also proposed additional improvements at the I-70/MD 32 interchange to improve traffic operations and safety while being designed to accommodate future planned improvements. The project required close coordination with MDOT SHA, utility owners, Howard County, environmental agencies, schools, adjacent property owners, and emergency service providers. The project goals included maximizing traffic operations and safety, minimizing inconvenience to the community and traveling public, minimizing overall impacts, and providing proactive coordination.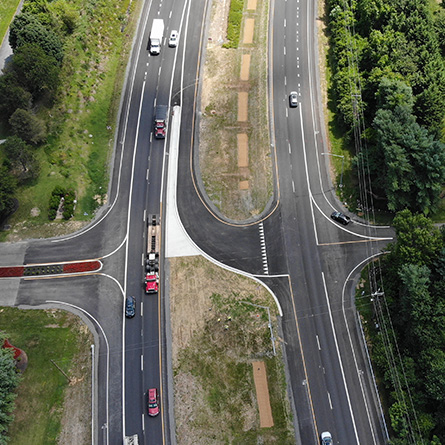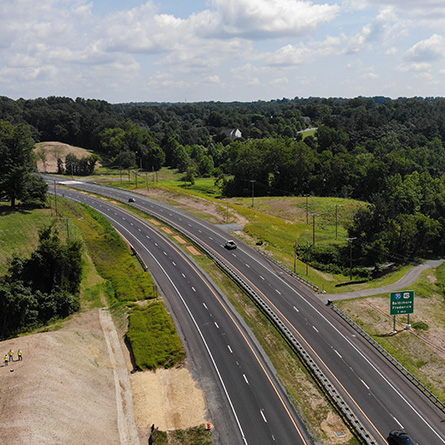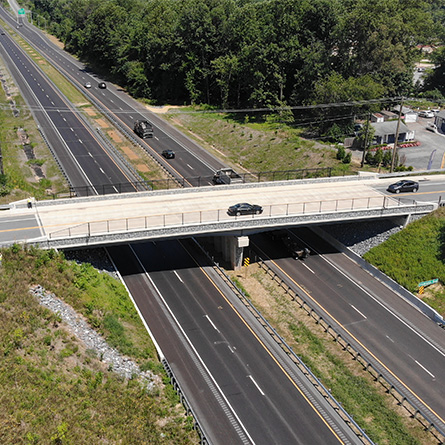 Highway/Roadway
WRA's design met the highest priority for MDOT SHA to maximize dualization economically while meeting criteria. Our proactive approach of creating three main zones and breakout sections allowed progressive construction of rough grading packages prior to final roadway approvals.
Geotechnical
Geotechnical services included design of new/rehabilitated pavement, evaluation of roadway embankments/cuts and potential rock, groundwater control, structure foundations, and the analysis of soil conditions and groundwater elevations for SWM and pond slope stability.
Stream Restoration
WRA managed waterway restoration/relocation design of the Middle Patuxent River (1200 LF), Terrapin Branch (1200 LF) and the Rosemary Lane Tributary (1500 LF). Restoration designs included consideration of aquatic organism passage and management of shear stress and water surface increases.
Water Resources
SWM design included 61 bio-swales, 49 grass swales, five wet swales, nine headwater pools, eight dry extended detention ponds, two submerged gravel wetlands, and one micro-bioretention facility providing quantity and quality control. Multi-phase ESC plans coinciding with MOT stages were prepared.
Environmental
WRA minimized environmentally sensitive resource impacts through refinement of the conceptual design. Meetings were proactively held with WRA, MDOT SHA, MDE, and USACE to review designs and permit conditions, including pre-permitting, stream/wetland mitigation field review, monthly coordination, and bi-weekly ESC meetings.
Traffic
The RFP included an incentive to minimize a one-way detour of Triadelphia Road to facilitate two stages of bridge reconstruction. The project exceeded the requirement to fully reopen Triadelphia Road prior to the school year 2020.