MD 22. Aberdeen, Maryland.
WRA provided preliminary and final engineering services for improvements to three at-grade intersections along MD 22 to accommodate the anticipated increase in traffic resulting from Base Realignment and Closure (BRAC) at Aberdeen Proving Ground (APG).
MD 22 at Beards Hill Road improvements included third lane widening of MD 22 in each direction from I-95 to 600' east of Beards Hill Road, adding second left turn lanes, lengthening left turn bays on two approaches, and adding bicycle and pedestrian facilities. MD 22 at MD 462 improvements included third lane widening of MD 22 from 1,300' feet west to 750' east of MD 462 and widening of MD 462 for additional turn lanes, and adding bicycle and pedestrian facilities. The MD 22 at Old Post Road improvements included third lane widening of MD 22 from US 40 to 950' east of Old Post Road, an additional westbound auxiliary lane from Old Post Road to US 40, second left turn lane from eastbound MD 22, and widening of Old Post Road to receive the second left turn lane.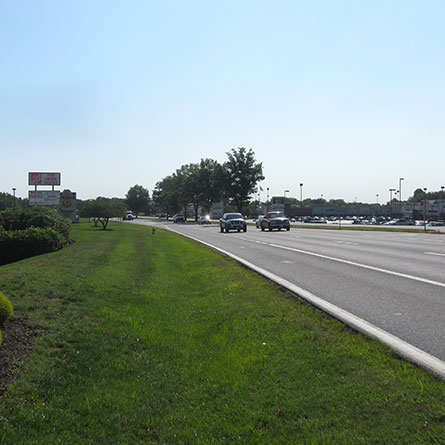 Highways/Roadways
WRA designed roadway widening, additional auxiliary lanes, and geometric improvements along MD 22 at all three intersections. The project included driveway tie-ins, utility coordination, public involvement, and many one-on-one meetings with property owners and other stakeholders.
Bicycle/Pedestrian
WRA designed new ADA compliant sidewalk and sidewalk ramps along eastbound MD 22 and both sides of Beards Hill Road. The project also included replacement sidewalks along Old Post Road and MD 462. Bicycle lanes were proposed along MD 22 including signing and marking.
Water Resources
WRA designed the erosion and sediment controls, closed storm drain systems, and storm water management facilities including wet ponds. New storm drainage ditches, inlets and pipe extensions were also provided to outfall storm water to proposed facilities and existing storm drain systems.
Traffic
This project included signing, marking, and reconstruction of traffic signals at four intersections. WRA provided Maintenance of Traffic plans in which a majority of the construction was performed behind temporary concrete barrier, while traffic drums were used to delineate work zones along the cross streets. The plans included pedestrian Maintenance of Traffic.
Bridges
WRA designed a new noise wall along MD 22 eastbound at Old Post Road. Three retaining walls were also designed along MD 22 for the Beards Hill Road project to eliminate impacts to an adjacent park and to minimize impacts to adjacent commercial parking lots.