I-95 Newark Toll Plaza. Newark, Delaware.
Traffic congestion approaching the Newark Toll Plaza impacted over 27.7 million vehicles annually. Often weekend and holiday back-ups extended up to 10 miles increasing travel times over an hour.
Modernizing the Newark Toll Plaza with Highway Speed E-Z Pass Lanes reduced travel times through the toll plaza and allowed DelDOT to meet future demands. This project provided the incentive for motorists to switch to E-ZPass to avoid lengthy delays, thus accelerating the rate of achieving cashless operation. The project reduced queues and sudden lane changes approaching the plaza, thereby reducing the potential for rear end crashes during peak travel periods. The addition of highway-speed E-ZPass lanes, coupled with the cash booth and approach lane reconfigurations, improved overall traffic operations, efficiency, and effective capacities of the facility, reducing motorist confusion and last-minute lane changes. The improvement also offered safety benefits for toll facility maintenance personnel who maintain equipment from the overhead gantry and toll collectors who safely access the northbound cash toll booths from the overhead walkway.
*Photo credit: Michael Koryta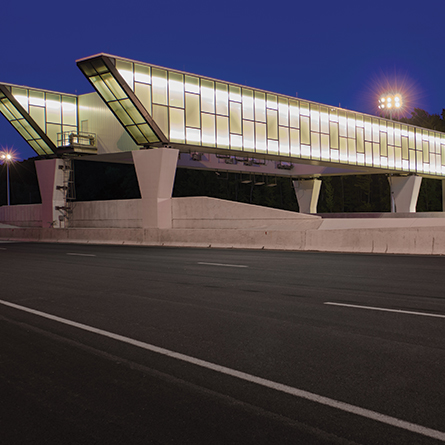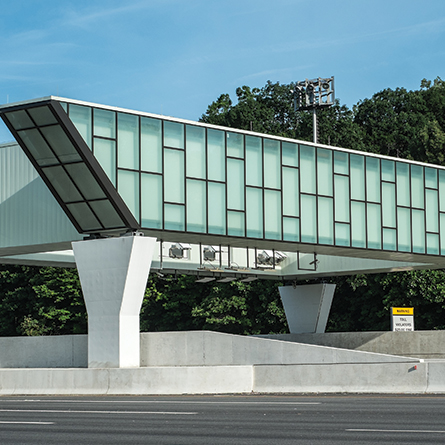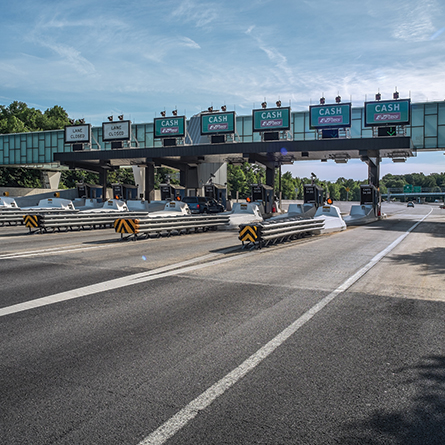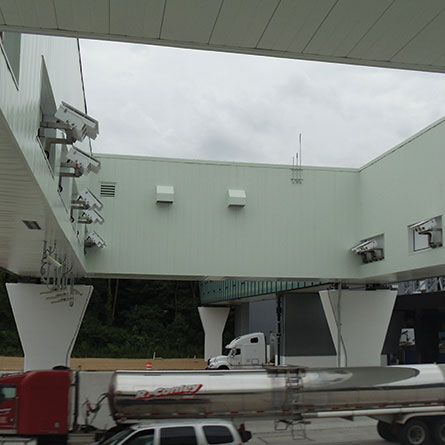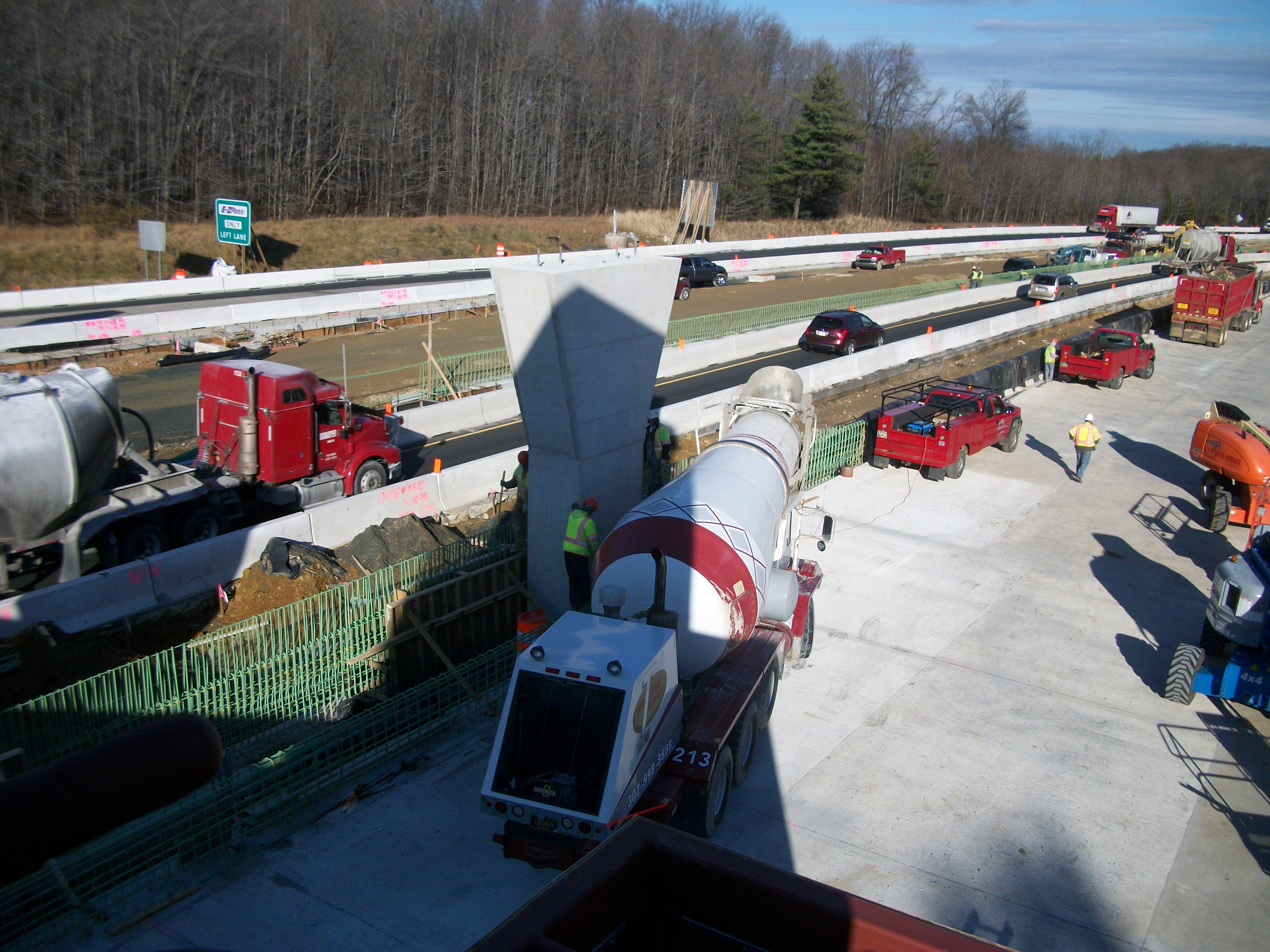 Highways/Roadways
WRA designed the toll plaza to provide two highway-speed toll collection lanes in each direction along with seven northbound and seven southbound CASH toll lanes. The northbound CASH toll plaza was expanded to accommodate the additional CASH toll lanes and create vehicle storage.
Bridges
The Overhead Walkway and Tolling Gantry are comprised of Warren Trusses made from wide flange steel members. Two stair towers were constructed of steel hollow structural sections were utilized to frame the stair towers due to their ability to accommodate irregular connection geometry.
Architecture
WRA designed a unique yet functional structure for toll collector access and maintenance of high-speed E-ZPass lane tolling equipment. The project evolved into a glowing glazed bridge structure with geometric patterning spanning the highway lanes and connecting to the ground with sculptural stair towers.
Environmental
WRA completed field work and documentation required to secure authorization from state and federal agencies, which included a Nationwide 23 Permit (USACE), Subaqueous Lands Permit (DNREC), and NEPA compliance (FHWA).
Mapping/GIS/Surveying
Surveying services consisted of boundary surveys to locate existing right of way lines; topographic surveys at selected pavement tie-in and critical areas; bridge clearance determination; cross-sections at 500 foot intervals throughout the entire 2.43 mile project limit and soil boring stakeout.
Geotechnical
WRA Geotechnical Engineers developed the subsurface investigation program and provided geotechnical recommendations that included drilled shaft foundations for the gantry structure and sign foundations, trenchless crossings that extended beneath I-95 and micropiles to anchor the existing toll canopy structure. Geotechnical engineers provided foundation inspection during construction.
Water Resources
WRA designed a storm drainage system and two wet pond stormwater management facilities to treat runoff from the impervious surfaces within the project's footprint. Four low-cover microtunnels were constructed to and from the SWM-ponds in an effort to maintain traffic while constructing.
Traffic
WRA developed the Transportation Management Plan that allowed us to maintain the Toll Collection system and the transportation network during construction. The construction phasing was coordinated to provide efficient work areas for the contractor while maintaining the flow of traffic.
Construction Management
WRA provided consultation during the construction phases of this contract and worked seamlessly with DelDOT inspection personnel and the Contractor to resolve construction issues. WRA also provided a Master Electrician for electrical inspection services during all phases of the construction.
Structural
The new gantry structure consists of glass-clad, steel warren trusses spanning ten lanes of Interstate 95, and sits atop bearings on five reinforced concrete piers. Each of the two irregular stair towers are framed with HSS tubes supported by reinforced concrete walls.
Mechanical
HVAC was designed for the enclosed overhead walkway leading to the toll booths and for the critical EZ-Pass toll collection equipment. Conditioned supply air was provided to pressurize each toll booth to ensure a healthy environment for the toll collectors.