I-95 Express Lanes - Southern Terminus Extension. Stafford County, Virginia.
WRA led design for the $37M I-95 Express Lanes Southern Terminus Extension design-build project. The design eliminated a heavy weave movement and alleviated congestion.
The primary feature of this project was to provide safety and operational improvements along the I-95 corridor, which included the design and construction of a 2.2 mile reversible lane from the current southern terminus of the I-95 Express Lanes. Project elements included grading and roadway construction for additional inside lanes, noise walls, overhead sign structures, Intelligent Transportation System (ITS) infrastructure and equipment, lighting, green retaining wall system, drainage, guardrail, subbase, and paving. The project was completed 8+ months ahead of schedule to earn an early completion incentive from the owner and it received the 2019 ACEC Merit Award.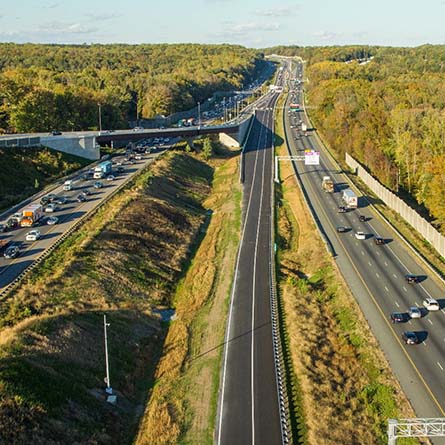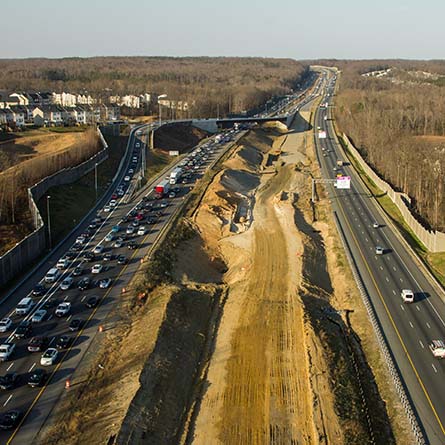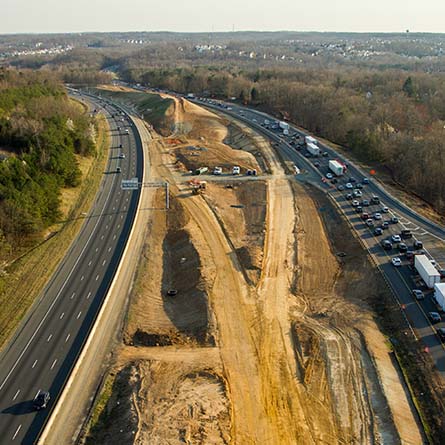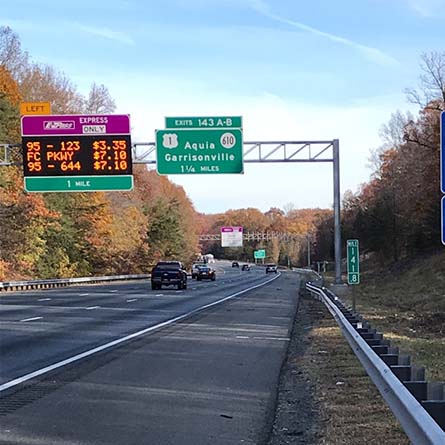 ITS/Lighting/Signing Integration
WRA provided design and integration of ITS devices to provide reversible lane operation for the I-95 Express Lanes Southern Terminus Extension and provided other traffic control, monitoring, and informational systems. This effort required close coordination with VDOT and the I-95 Express Lanes Concessionaire to integrate all new ITS devices and expand operation of the existing system.
SWM/Drainage/ESC Design
WRA prepared an advance work package that provided MOT plans and computations, as well as clearing, to allow for work to begin immediately upon issuance of NTP. During final design of the project, all stormwater management BMPs were able to be eliminated using credits.
Geotechnical
WRA's services included pavement and foundation design, slope recommendations, and the design of a mechanically stabilized slope or "green wall" to eliminate stream impacts.
Noise
Through WRA's noise data collection and analyses, over 30,000 SF of noise walls were eliminated.
Construction Management
WRA provided Quality Assurance (QA), Construction Management and Inspection services, and provided oversight for the overall quality assurance and quality control program. Responsibilities included certification of work and materials, testing, and ensuring that sampling was performed in conformance with the plans and specifications, as well as the approved QA/QC Plan. Our team leveraged e-Construction tools to foster a collaborative teaming and partnering approach between the Owner, Concessionaire, Contractor, Designers, and Inspection groups. These tools expedited issue resolution, increased communication, and achieved high-quality metrics from design, through construction, and into maintenance and operations. This approach became a model that VDOT sought to implement on future design-build projects.