I-81 Atkins Bridge Replacement Project. Smyth County, Virginia.
WRA is the lead designer for the $29 M design-build bridge replacement project where I-81 spans over US Route 11, Norfolk Southern Railroad and Middle Fork Holston River.
As part of the design-build team, WRA developed an approach and conceptual design that met or exceeded the technical requirements set forth in the RFP and implemented several design improvements resulting in value-added benefits to the project.  Some of these design improvements included minimizing impacts to the traveling public by condensing the project limits; avoiding utility impacts by eliminating lowering US Route 11; and simplifying constructability by eliminating drainage features.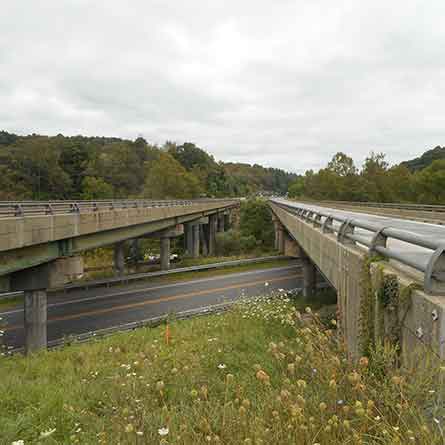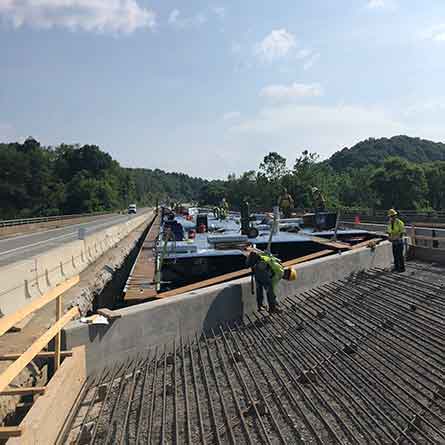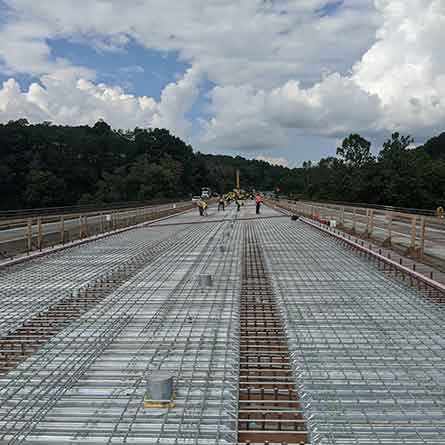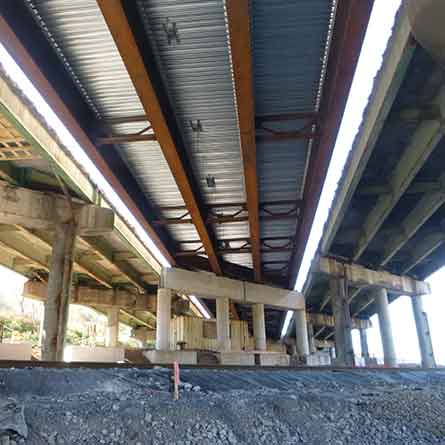 Bridge
WRA's design resulted in shorter roadway connections to I-81 on both sides of the replacement bridges, eliminating the widening of I-81 NB to the outside and significantly simplifying construction and maintenance of traffic. The refined I-81 profile improved the bridge cross slope and increased vertical clearance to easily meet the requirements over Route 11 and the railroad eliminating unnecessary reconstruction of Route 11 saving an estimated $2 million.
Highways/Roadways
WRA's design met or exceeded all RFP requirements and resulted in roadway improvements that fell completely within the existing right-of-way. The roadway geometrics assume future outside widening of I-81 and the vertical alignment facilitates this widening without any future impacts to US Route 11.
SWM/Drainage/ESC Design
The WRA design reflected innovative drainage and stormwater management design techniques that reduced initial project cost and long-term maintenance considerations. The final project design combined multiple culverts into a single crossing of I-81 on both approaches to the bridge and eliminated eleven proposed cross pipes (directional bores) beneath I-81 and/or outlet pipes beyond the I-81 NB and SB shoulders.
Construction Management
WRA provided the Quality Control Manager and inspection/testing staff to perform all required QC inspection and testing to full VDOT Design-Build standards. WRA developed and implemented the Inspection and Testing Plans, maintained all QC documentation including test reports, diaries, and checklists, and coordinated with the Design-Builder, QA Team, and VDOT IA/IV to ensure compliance with the plans, specifications and all quality standards. WRA also performed scheduling services for the Design-Builder, assisting with schedule maintenance and performing monthly schedule updates.