I-70/MD 85/MD 355 Interchange Reconstruction. Frederick, Maryland.
The I-70/MD 85/MD 355 project involved widening I-70, reconstructing/widening MD 355 and MD 914, and relocating/widening and extending MD 85, including a single point urban interchange (SPUI).
WRA was selected by the Maryland State Highway Administration (MSHA) to provide preliminary and final engineering design, permitting and construction support services for this project. The I-70 project is located in a karst geologic area, which is characterized by highly variable rock surfaces, weathered zones, voids, and cavities. Due to the subsurface conditions, 8" diameter micropiles were used to support the bridge foundation, making this the first MSHA project to use micropiles for this purpose.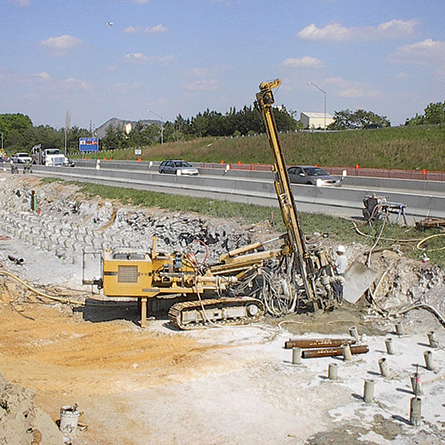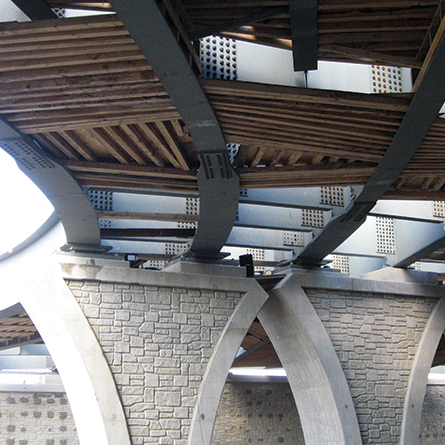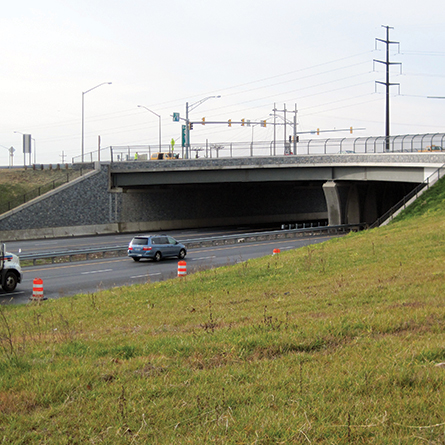 Mapping/GIS/Surveying
Surveying services provided by WRA included research and delineation of existing deeds, plats and right of ways; preparation of the property mosaic; field surveys, delineation of required right of way, easement and extra land areas; and preparation of right of way plats.

Geotechnical
WRA performed geotechnical investigation, analysis, and design for the SPUI bridge and two retaining wall foundations, as well as a soil resistivity survey. WRA also conducted an extensive compaction grouting program, subsurface exploration, pavement cores, and utility test holes.
Highways/Roadways
WRA designed the widening of I-70, the reconstruction/widening of MD 355, the reconstruction/widening of MD 914, new alignment of 0.47 miles and realignment/widening of 0.33 miles of MD 85, including construction of a new single point urban interchange (SPUI) at I-70.
Pedestrian/Bicycle
The project installed contiguous pedestrian facilities which connected to existing sidewalk networks previously separated by I-70. Sidewalks and pedestrian ramps were designed for ADA compliance. Outer travel lanes were designed to accommodate bicyclists.
Bridges
WRA provided structural design for the SPUI, an aerial structure carrying the relocated MD 85 over I-70. The bridge is a two-span continuous steel plate girder structure, with retaining walls, both variably curved and tangent girder sections, and interstitial stringers.
Water/Wastewater
Civil services performed by WRA included utility coordination and coordination with the adjacent property owners and developers. Study plans were prepared and presented to the property owners. The project also incorporated access points for future development along the project corridor.
Traffic
WRA provided traffic engineering services, including traffic operation and accident analysis; analysis of roundabouts versus at-grade intersections; design of signing, lighting and pavement markings; traffic signalization and signal interconnect design; a multi-phase traffic signal plan; and multi-stage maintenance of traffic.
Water Resources
WRA's water resources team was responsible for hydrology/hydraulics, stormwater management, and erosion and sediment control. With the project located in karst topography, outside ditches, stormdrain pipes and a stormwater management facility were designed to reduce infiltration.
Landscape Architecture
WRA performed urban streetscape design, including stamped colored concrete and brick pavers in the medians, and landscape design, which incorporated various trees along MD 85, MD 355 and MD 914 for aesthetic purposes and the screening of undesirable views.
Environmental
Environmental permitting for the project was obtained from the Maryland Department of the Environment (MDE), the Army Corps of Engineers, and the Maryland Department of Natural Resources. WRA also assisted in 4f documentation, and was responsible for wetland mitigation design.
Construction Management
WRA provided construction phase services for the I-70 project, including shop drawing review and approval, partnering during construction, preparing a response to the Contractor's request for information, review of the other consultant's plans, and performing redesign during construction.