Hillen Water Pumping Station. Baltimore, Maryland.
WRA prepared the designs for the 100 MGD finished water pumping station that serves as a critical element in the owner's delivery of drinking water to its customers.
WRA initiated the project with the preparation of a design report that documented evaluations of essential components of the pumping station, such as number and size of pumps. The design report included a hydraulic transient analysis of the pumping station that led to the design of two 35,000 gallon pressurized surge tanks to protect key pipelines in the existing transmission system. The building was designed to blend in with the Italian Renaissance architecture of the adjacent water filtration plant to minimize the visual impacts to the scenic Lake Montebello site. The project included redundant power supplies, suction piping and discharge piping making it extremely reliable during emergencies.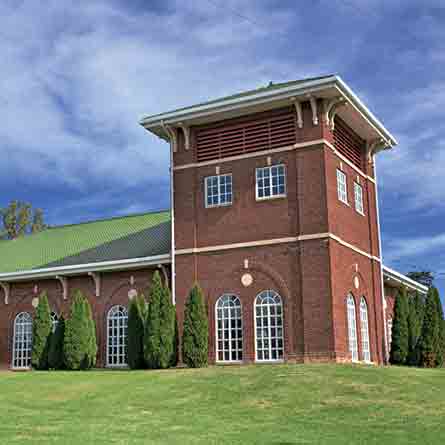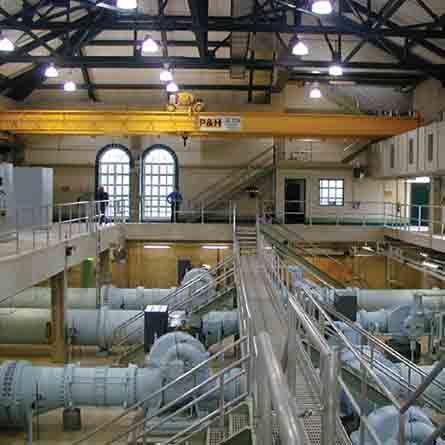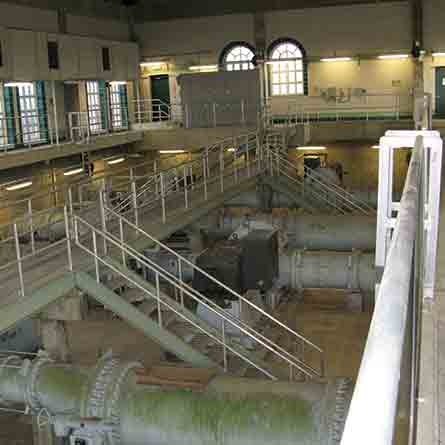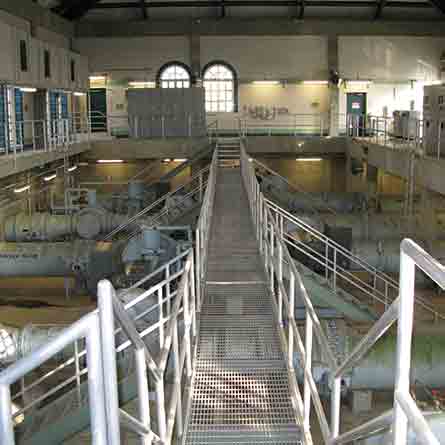 Water Pumping
Mechanical design included pump selection, piping layout and valve selection within the pumping station plus surge mitigation and pump controls. Design services included all site design and pipeline design and two crossings of the very busy Hillen Road.
Structural
Structural design services included the design of the pumping station, station superstructure, crane hoist system and numerous valve and meter vaults.
Architecture
Architectural services included the design of the exterior components of the station to match the on-site filter plant designs. Several meetings were held with neighbors and the County Planning Department to review the designs.
Electrical
Electrical design services included the dual 13.2kV power feeds to the station with a power factor correcting switchgear lineup and redundant 4,160 VAC Motor Control Center including all power and electrical components for the pumps, motors, and station electrical facilities.
Instrumentation and Controls
The pumping units are manually operated through a remote SCADA system. The pump control system is designed to allow pumps to start and stop without creating surges in the pipelines.
SWM/Drainage/ESC Design
Design services included stormwater management design.
Mechanical
HVAC designs were provided to remove excessive heat generated by operating pump motors. Designs resulted in a simulated tower to house the exhaust fans.