Halethorpe MARC Train Station. Halethorpe, Maryland.
MTA engaged WRA to design an upgraded, unmanned station to be constructed while allowing MARC rail service and Amtrak's busy Northeast Corridor service to continue uninterrupted during construction.
Each day, the MARC Halethorpe Station serves 1,300 of the 39,000 passengers served by the Maryland Rail Commuter Service (MARC), making it one of the five busiest stations in the system. MTA engaged WRA, through a qualifications based selection process, to design an upgraded station to be a user-friendly facility that also meets the current American's with Disabilities Act accessibility requirements. In addition, MTA requested an unmanned station requiring minimal maintenance. The facility needed to be constructed without interrupting MARC rail service and that of Amtrak's busy Northeast Corridor. The fully ADA accessible station provides two 700-foot long, high-level platforms with full-length platform canopies, elevators, a covered pedestrian bridge providing easy access to each platform as well as lighted electronic display informational signs and a public address system. ADA accessible Kiss-and-Ride locations improve station access.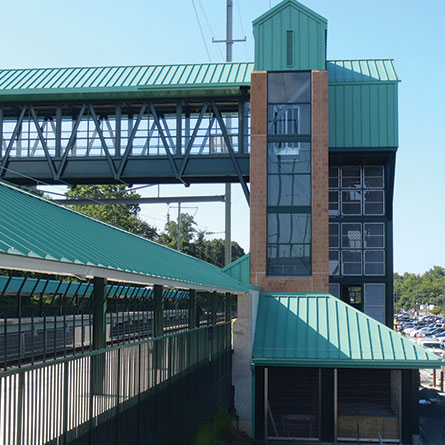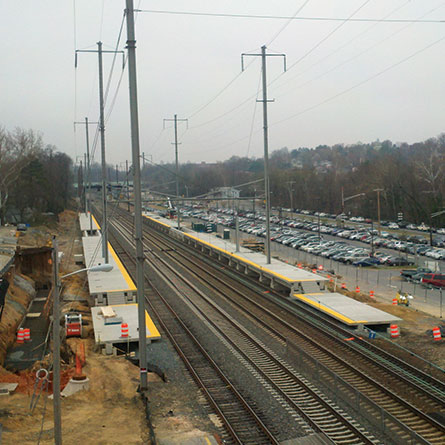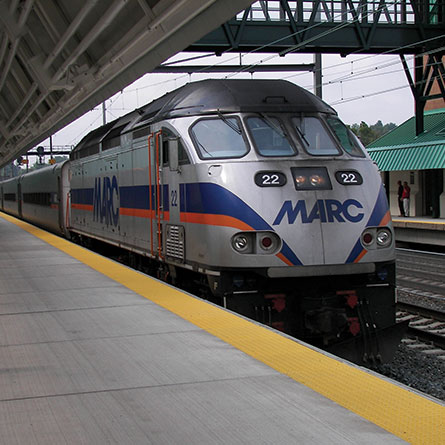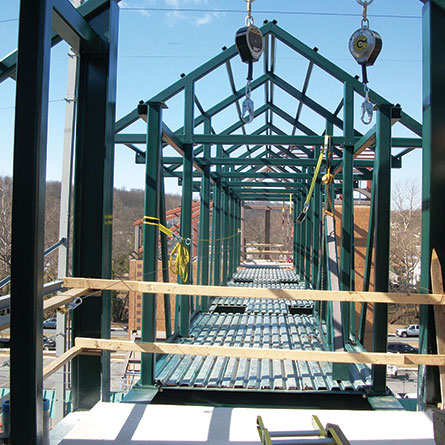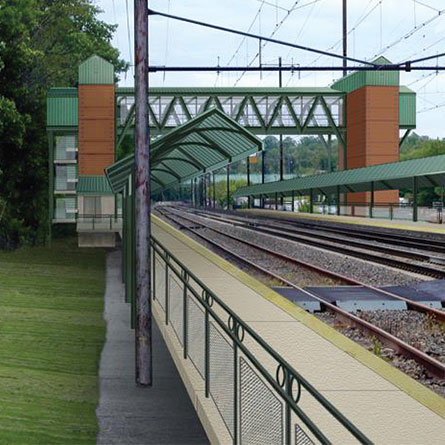 Architecture
The station's style channels images of transportation architecture of the late Victorian/Industrial Revolution era; iron spot brick with accents, sloping metal roofs, and exposed structure evoke historic flavor. Combined with modern landscaping, the patrons await train arrival in a pleasant environment.
Construction Support
In addition to providing support for all facets of construction, WRA worked closely with MTA, Amtrak, and the contractor, to plan the bridge placement and ensure safe lift completion in close proximity to electrical lines within an extremely time-limited work window.
Highways/Roadways
Leading the design team, the highway group coordinated with project stakeholders, among which were MTA, MARC, Amtrak, and the Maryland Department of the Environment. The group also designed civil-site work including parking lot paving, signing, pavement markings, including the Kiss-and-Ride facilities.
Transit
The railroad and transit group determined station platform locations and the pedestrian bridge location, evaluating effective viewing time to signals for a 110 mph train. The group also provided top of platform elevations and information regarding existing railroad structures on site.
Structural
Hoisted in one piece into place at 35 feet above track, the 80-foot pedestrian bridge is fully enclosed. Supported by ornate steel framed stair and elevator towers clad in precast concrete and wire mesh, the bridge is clad in glass and wire mesh.
Mapping/GIS/Surveying
Surveying efforts consisted of detailed topographic, boundary, and as-built surveys within and adjacent to the AMTRAK right-of-way, including determination of overhead wire heights at critical locations. Boundary surveys included establishing AMTRAK right-of-way and adjacent properties within the project limits.
Transportation Structures
Design used precast platform components to facilitate rapid field installation and to minimize disruptions to limited commuter parking. Platform elements also accommodated existing Amtrak catenary structures, and substructures avoided a buried duct bank and utilities and existing storm drain structures.
Water Resources
Water resources engineers developed storm drainage, storm water management, and erosion and sediment control designs. Maintaining existing drainage patterns, platform design included open and closed drainage systems to convey runoff from the large offsite drainage area through the site.