George Mason University Cross Campus Connector Design-Build. Fairfax, Virginia.
The George Mason University Cross Campus Connector Design-Build project in Fairfax, Virginia connected the east and west campuses with a new overpass bridge for Ox Road (Route 123).
WRA was a subconsultant retained for the design and construction management of the 0.25 miles of Route 123 roadway improvements, including the bridge over Campus Drive, and a new signalized intersection with Braddock Road. In addition to bridge roadway design, geotechnical and traffic engineering, WRA provided Quality Assurance Management for the portion of the project located within VDOT right-of-way, providing the Quality Assurance Manager (QAM) and the full time Senior QA Inspector assuring quality to full VDOT design-build specifications. Project features included a four-lane traffic detour of Ox Road, twin single span concrete beam bridges with architectural features and a shared use path, MSE retaining walls, utility relocation, and full signalized intersection construction.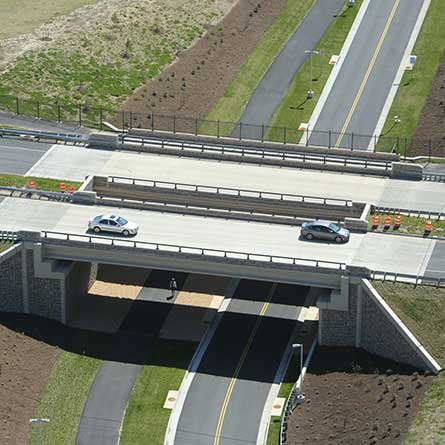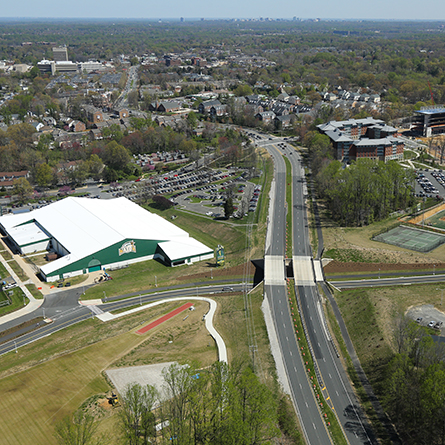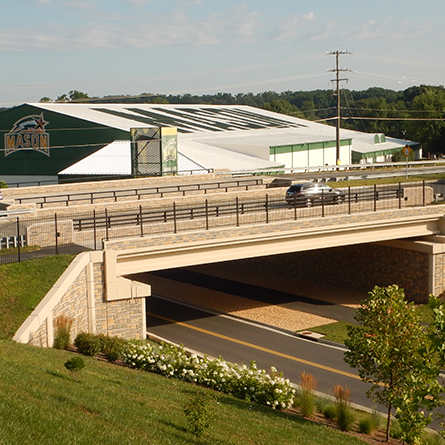 Construction Management
WRA served as the Quality Assurance Manager on the project for all work within the VDOT right-of-way. Services included project acceptance, inspection, materials testing and certification, documentation and reporting to satisfy VDOT design-build requirements, constructability and value engineering reviews.
Highways/Roadways
The existing four-lane divided roadway approaches to the bridge over Campus Drive were reconstructed for 0.25 miles including a Shared-Use Path, storm drainage modifications and installation of traffic control devices.
Geotechnical
The geotechnical report included the 1.1 miles of Campus Drive, Route 123 and Braddock Road improvements, and included the evaluation of multiple potential alignments. The geotechnical efforts included the evaluation and design of the bridge and retaining wall foundations.
Civil Land Development
WRA provided utility coordination for all private utilities, including extensive coordination with Dominion Power, Verizon, gas, and cable and fiber optic facilities. The fiber optic relocation work included temporary and permanent relocations of a fiber optic cable duct bank west of the bridge.
Bridges
Performed complete design, shop drawing and RFI review, and resolution of field issues for a pair of single span, concrete girder bridges to carry Route 123 over Campus Drive, including a shared use path and aesthetic treatments on parapets and fencing.