Division I - Main Pumping Station Diversions. Washington, DC.
The Division I project includes the construction of two diversion chambers along combined sewers more than 100 years old. Interconnecting channels will deliver the diverted sewer to a drop shaft and tunnel.
The Division I – Main Pumping Station Diversions project is part of the DC Clean Rivers Project (DCCR) for control of Combined Sewer Overflows (CSO) to the Anacostia River. The Division I project includes the control and consolidation of CSOs 009, 011A, 012, 013 and 014 at the Main Pumping Stations located in Washington, DC; two hydraulic diversion structures constructed over two existing 14-foot high by 14-foot wide active trunk sewers; maintenance of flow in 54-inch and 42-inch sewers; and extension of a 72-inch sewer under one of the trunk sewers. Key design elements include structural design, deep support of excavation, analysis and protection of existing structures, ground improvement, maintenance of flow, and a 172-foot long 72-inch sewer extension.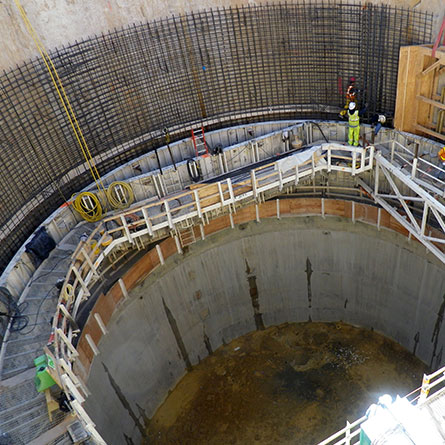 CSOs/SSOs
WRA is responsible for all design phase activities for this design-build project including rerouting of existing utilities, design enhancements to the two diversion chambers and an odor control structure.
Geotechnical
WRA's geotechnical group is responsible for ground monitoring instrumentation and foundation designs to ensure adjacent structures are not impacted during construction. WRA will perform reviews of support of excavation designs as part of the QA process.
Structural
WRA will provide design enhancements for the construction of the Diversion Chambers. Structures are to meet a 100-year design life with exposed features meeting JBAB requirements. Aluminum will be used for the internal weirs and screens.