Chapel Hill Elevated Water Storage Tank. Baltimore County, Maryland.
The Chapel Hill Elevated Water Storage Tank was necessary to provide adequate service to accommodate development in the eastern portion of Baltimore County.
The tank site is located near an existing elementary school site and immediately adjacent to a residential community. Design of the facility included separate influent and effluent lines, each with magnetic flow meters, single-acting altitude valve and check valves, a sodium hypochlorite facility to boost influent and effluent chlorine residuals, a cathodic protection system and a telemetry control system. The tank is an all steel 2.0 MG elevated fluted column. A stand-alone building adjacent to the tank houses chemical feed and storage facilities, and electrical control panels.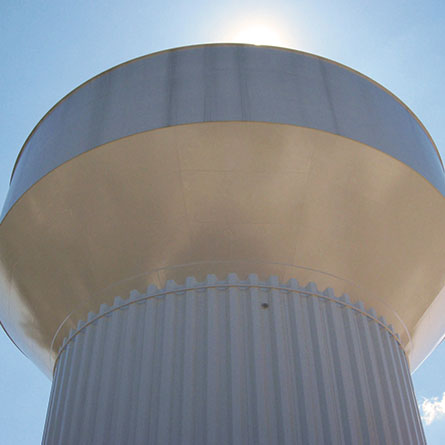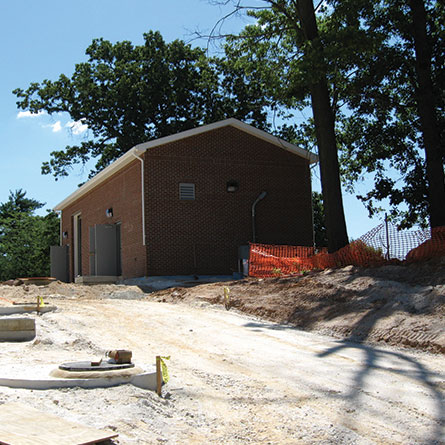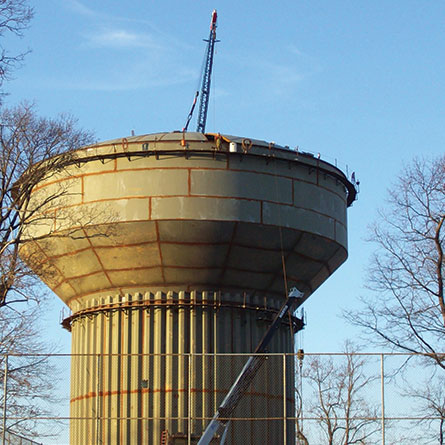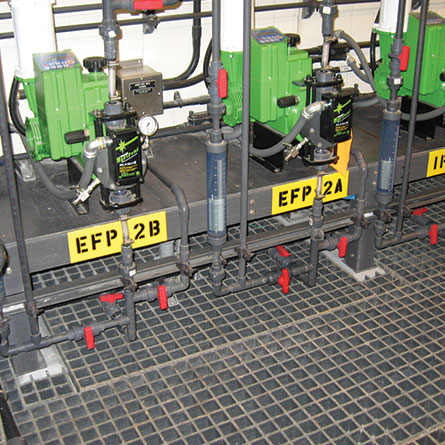 Water Storage
A chemical system was designed to feed sodium hypochlorite to maintain/increase chlorine residual in the system. Magnetic flow meters, an altitude valve and a check valve were included. Tank inlet/outlet piping, a sanitary sewer for the chemical building, and a tank drain were included.
Mechanical
Electric unit heaters and exhaust fans were provided in the chemical building and altitude valve vault. Emergency showers and eye wash stations, a sample sink and toilet room were also provided. A chemical sump pump was designed for chemical spill collection.
Instrumentation and Controls
Power was provided to the chemical building and for all tank functions including a rectifier for an internal cathodic protection system. Local and remote indication of alarms, tank, and chemical feed system status were provided.
Civil/Land Development
The site plan included grading, stormwater management, an access road and a perimeter fence with a card reader access gate.
Structural
The structural design included framing and foundation design for the chemical building and cast in place concrete vaults for the flow meters and altitude valve.
Architecture
A brick and block structure with a pitched shingled roof was designed to be compatible with an adjacent elementary school.
Environmental
The site was replanted with a combination of deciduous and evergreen trees and shrubs to shield the site from the school and nearby housing.
Mapping/GIS/Surveying
All topographic surveys were performed by WRA's survey group.