Building 249. Fort Myer, Virginia.
The essence of the oldest military base in the United States was preserved by restoring this building to its 1904 grandeur.
Located on Fort Myer, one of the United States' most historic military bases, WRA coordinated the development, restoration, and renovation of this National Register-listed historic structure. The building's one- and two-story wood porches had been removed as a result of previous renovations. The missing porches were rebuilt based on original documents and photographs. Deteriorated slate roof, leaky gutters, and rotted wood cornice trim were replaced. The project included considerable coordination with the Virginia State Historic Preservation Office (VA-SHPO).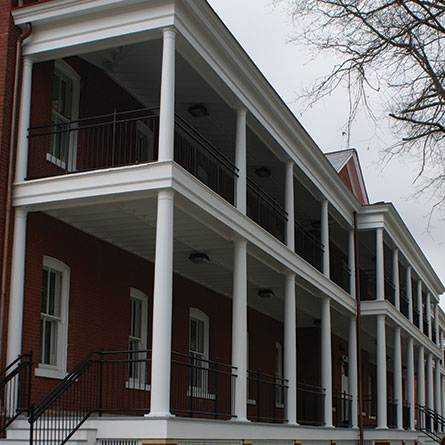 Architecture
An historic renovation to a two level porch on the front of the building and two porches in the rear to bring the exterior of Building 249 back to appear as it did when constructed in 1904, provided a unified appearance among the neighboring buildings.
Historic Preservation
During the design phase, an historic mural was discovered that had been covered by prior alterations so provisions were written into the project documents to expose and preserve the mural. During construction, much care was taken to protect the historic character-defining features.
Structural
A successful balance between respecting the historic nature of the building while complying with UFC standards for antiterrorism design was achieved. Exterior unreinforced masonry walls were left in place and strengthened; interior cast iron columns and timber framing were reused.
Protective Design/Security
An innovative AT/FP strategy allowed restoration of the historic facade while installing blast-resistant windows and doors behind the facade. Crash-rated bollards now protect the new building entrance and limit vehicular access on the adjacent roadway.
Mapping/GIS/Surveying
WRA performed detailed topographic and utility surveys of this historic facility. GPS control surveys were used to establish Virginia State Plane Coordinates (North Zone) and NAVD 88 elevations. The surveys were provided in MicroStation V8 using Tri-Services CADD standards.