Anne Ely Hall. US Army War College, Pennsylvania.
Listed on the National Register of Historic Places, Anne Ely Hall's shell was rehabilitated while the renovated interiors feature a contemporary design for the US Army War College's processing and support departments.
Founded in 1757, Carlisle Barracks is the nation's second oldest active military base. A comprehensive rehabilitation for the three-story, 23,000 SF building was designed to accommodate the administrative functions of several distinct organizations. Challenges included accommodating all the new building systems and new elevator while maintaining the historic aesthetics to meet the satisfaction of the reviewing agencies and the Pennsylvania State Historic Preservation Office (PA-SHPO).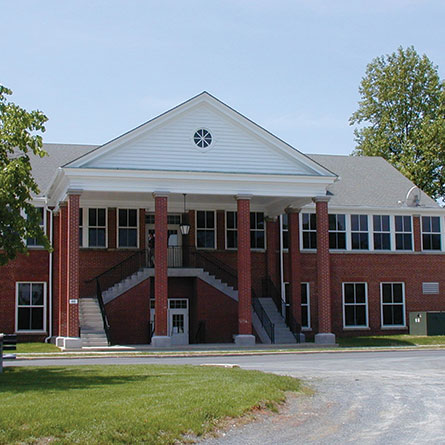 Architecture
Necessary divisions between work functions were outlined in the space plan while maintaining a cohesive aesthetic within the historic structure. Design included incorporation of the building's first elevator.
Historic Preservation
To insure that the rehabilitation work retained the building's historic character, extensive design reviews were successfully completed from start to finish with the PA-SHPO. The exterior was restored to its original 1931 appearance while the rehabilitated interior accommodated its new tenants.
Mapping/GIS/Surveying
Topographic and utility surveys were performed on 1.5 acres of land surrounding the existing facility. Survey control was based on assumed datum. Survey data was processed to develop a digital terrain model and one foot contours.