Woodside Elementary School Gymnasium. Anne Arundel County Public Schools, Maryland.
A modern physical education curriculum and healthy lifestyles for growing kids will be supported by a new, flexible gymnasium.
Built in 1965, the gymnasium at Woodside Elementary School consisted of a multipurpose room, which also served as the school's cafeteria. No longer meeting modern needs and standard PE curriculum, a 6,000 SF addition is being built onto the school to serve exclusively as a gymnasium. The new gym features maple wood flooring, a large climbing wall, six motorized basketball backstops planning office, ample storage, and restrooms. The new gym will be available for the community's use through the Anne Arundel County Department of Recreation and Parks.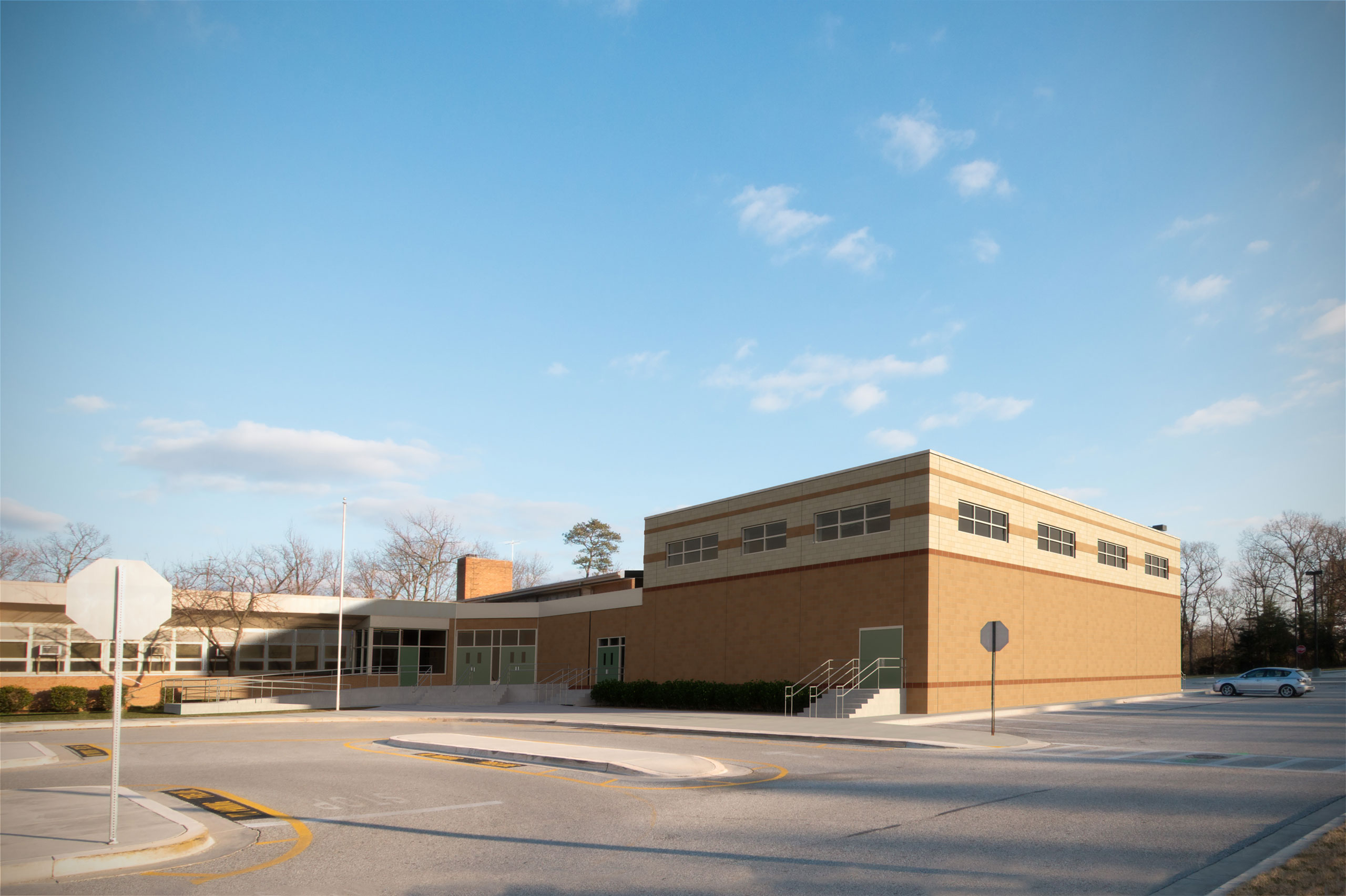 Architecture
The new 25 foot high gymnasium addition will complement the facades of the school, with the use of horizontal accent bands of colored brick. Designed in the spirit of LEED Silver, large clerestory windows will allow ample daylighting.
Mechanical
A single zone, variable volume, rooftop unit was designed to maintain temperature and humidity set points. The RTU is capable of 100% outdoor air operation and will be equipped with additional energy saving components, and the supply and relief fans will be variable speed with variable frequency drives.
Electrical
All lighting for the gymnasium addition will be LED and will be designed to meet current IES standards and conform to the requirements of ASHRAE Standard 90.1. The LED's for interior lighting will be supplied with a color temperature of 3500K and a 80% CRI.
Fire Protection
The addition will receive a new automatic sprinkler system, designed to meet NFPA standards, Maryland state building and fire regulations and local county ordinances. The school's addressable fire alarm system will be extended to the gymnasium.
Civil
Site work includes the provision of twenty new parking spaces. Stormwater management will be provided to treat the additional pavement added for the parking stalls in two micro bioretention facilities built just below the parking stalls.