Town Center. Charles County, Maryland.
This lakefront destination is a mainstay in the Waldorf community.
Waldorf's main commercial district was enhanced. This local entertainment destination for residents and tourists was created and features numerous dining options and retail space. Located adjacent to O'Donnell Lake, the site was transformed and features a 10-foot boardwalk around the perimeter of the lake.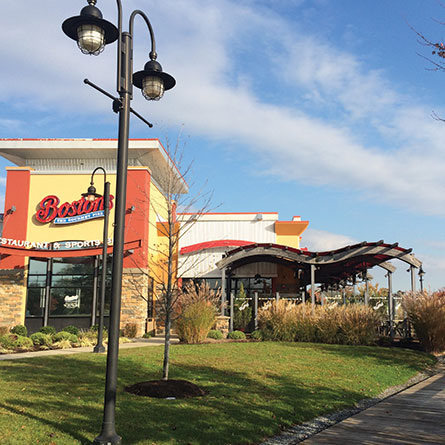 Civil/Land Development
Field investigations were performed along with grading, parking lot, and road design, utility infrastructure, stormwater management facilities, and erosion and sediment control measures for the site development.
Mapping/GIS/Surveying
Aerial, traverse, bench marks and boundary surveying services were performed.
Environmental
Site investigations of the lakefront were performed while the applications needed for approvals from the Maryland Department of the Environment/U.S. Army Corps of Engineers were prepared
Transportation
Traffic and signal warrant studies of the site were conducted allowing traffic plan maintenance. Signage and pavement marking plans were constructed and a traffic signal to support ultimate build-out traffic flows was designed.
Structural
Plans for the construction of the 10-foot boardwalk, the feature amenity of this destination site, were prepared.
Electrical
Lighting plans for the boardwalk were prepared in order to provide a safe and well-lit area for pedestrian traffic along the waterfront.