Thomas Hunter Lowe House of Delegates. Annapolis, Maryland.
Major renovations to the 1974 neo Georgian Thomas Hunter Lowe House of Delegates revitalized this wing of the legislative body for the State of Maryland and extended its life for 50 years.
The seat for the 141 district representatives of the State of Maryland, comprised of delegate offices and district assembly rooms, functions primarily as space for delegates and constituents to discuss all pending legislation for Maryland. Comprehensive interior and partial exterior renovation of this four-story, 182,000 SF building resulted in a modernized, LEED Gold certified facility.
Offices and meeting rooms were outfitted with new finishes and building systems and lighting were updated. Restrooms and support spaces were redesigned for functionality and code compliance. All mechanical, electrical, plumbing and fire alarm systems were replaced. Audio, video, and broadcasting systems were installed in the delegation rooms. Exterior work included masonry repairs, reconstruction of dormers, replacement of flat roofs, installation of new slate roof tiles, snow guards and upgrades to decorative stone entries.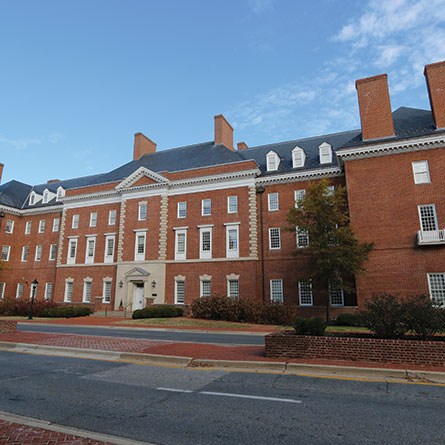 Architecture
A detailed phasing plan was developed to permit occupancy during construction. Care was taken in the design and selection of finishes to preserve the traditional character of the building. Floor penetrations were limited due to the post tensioned slab construction.
Mechanical
New VAV AHUs were designed with economizer cycle, humidification, and enhanced filtration. Pneumatic controls were replaced with a DDC system. Building achieved LEED Gold Certification. Extensive phasing was required to accommodate renovation between legislative sessions over multiple years.
Sustanainability
Achieving LEED Gold certification, 80% of the existing building and 60% of the existing furniture was maintained in the design. The project was required to meet the State of Maryland High Performance Green Building Program criteria.