St. Charles Sanitary Sewer Infrastructure. Charles County, Maryland.
A high-capacity raw sewage pumping station along with downstream force main sewers were designed for St. Charles Communities.
A 17MGD sewage pumping station was designed, along with 15,000 linear feet of 20-inch and 16,000 linear feet of 24-inch sewage force mains. Working directly with Charles County representatives to determine the operational requirements, Pumping Station 3B was designed to provide the capacity to serve 19,000 residential dwelling units, 640 commercial acres, and 110 school acres. The facility receives inflow by way of a 36-inch gravity sewer and discharges to the two force main sewers that ultimately flow to the County's Mattawoman Wastewater Treatment Plan. The ultimate design phase of the station utilizes six 250-hp submersible pumps with variable-speed drives.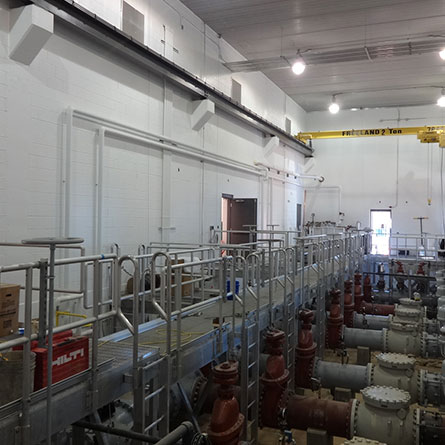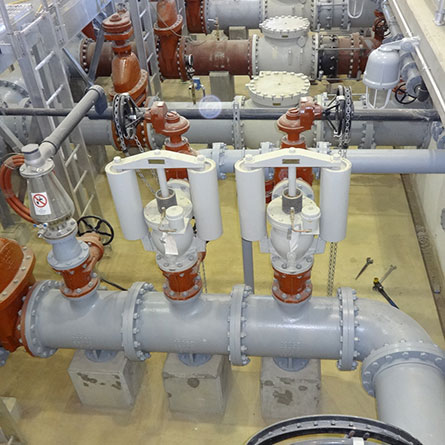 Civil/Land Development
Field investigations were performed during this project along with the design of grading, service roads, utility infrastructure systems, and stormwater management facilities. Erosion and sediment control measures were also followed by the acquisition of all required permits.
Mapping/GIS/Surveying
Topographic surveys of the project limits were performed. Locations of underground on-site and off-site utilities were also discovered.
Architectural
With an exterior suitable for its high-profile location within the community, the pumping station consists of durable interior finishes typical of municipal pumping facilities.
Structural
A 40-foot deep dual-chambered wet well was designed along with foundation piles and interior structural systems.
Mechanical
HVAC and plumbing systems were designed for this project along with two channel grinders to address the inflow of solids, effluent pumping systems, and a Bioxide chemical-feed system for odor control.
Electrical/Instrumentation
Facility work included the design of electrical and lighting systems, site electrical infrastructure, automatic transfer switch (ATS) for back-up power, systems instrumentation and controls, and a programmable logic controller (PLC) enabling remote status monitoring by County operators.
Geotechnical
Subsurface investigations along with foundation design were included with the creation of this facility