Shoemaker Building. University of Maryland College Park.
The Shoemaker Building, one of the oldest on the UMCP campus, was revitalized and transformed into a new, welcoming center for student counseling and tutoring programs.
To create space conducive to advising a growing student body, as well as providing disability support services and testing and tutoring programs, the Counseling Center was outfitted with warm finishes, generous ceiling heights, accessible entrances, and offices with improved acoustic isolation. A warm, friendly reception and waiting area was also designed. The 175 seat lecture hall, one of the largest and busiest on campus, was redesigned with new seating, lighting and audio/visual systems.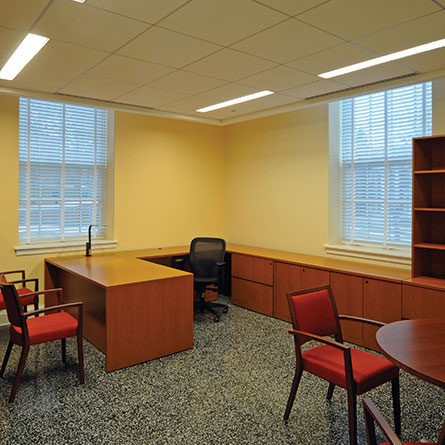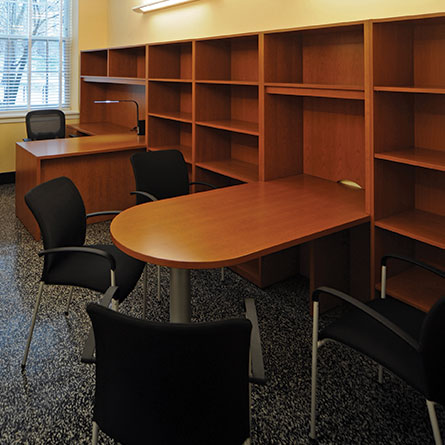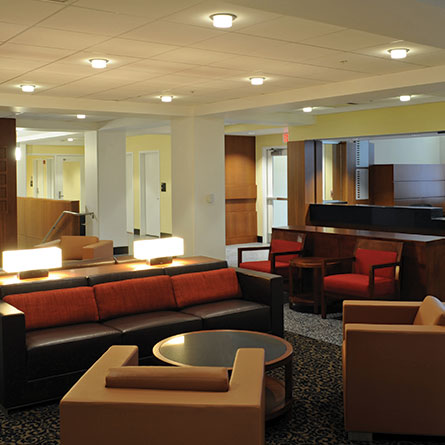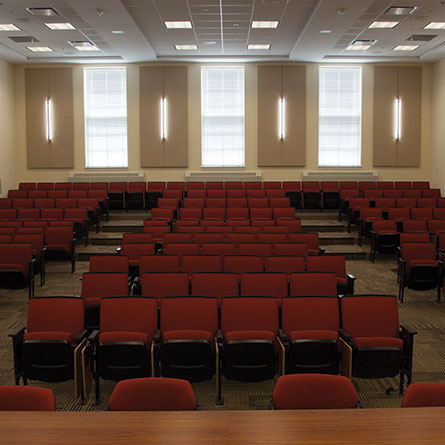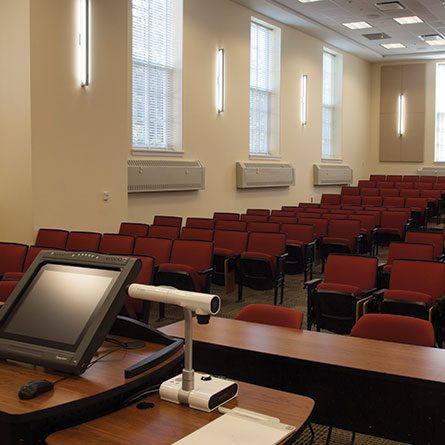 Architecture
Renovations were developed to foster accessibility and promote the services of the Counseling Center. Ground floor building entries and circulation were upgraded to create a public presence for Disability Support Services. New windows were specified to match the existing windows.
Interior Design
Natural light accentuated by warm artificial light sources, rich wood accent walls, and terrazzo floor finishes create a welcoming environment. Interiors were developed to incorporate durable and sustainable materials. Furniture was selected to ensure functionality while optimizing efficiency.
Mechanical
The chilled water system, steam heating system, AHUs and distribution system was replaced. Four new air systems were designed using several different technologies, including variable air volume (VAV) and 4-pipe fan coil units with a dedicated outdoor air handling unit.
Mapping/GIS/Surveying
Topographic surveys were done for grade modifications. Surveys were performed and tied to the Maryland State Plane Coordinate System NAD 83/91 and NAVD 88. Topography obtained north and south of the existing building to map physical features and develop a 3D model.