Red Line. Baltimore, Maryland.
The Red Line was a $2.9 billion 14-mile long east-west light rail line through Baltimore City and Baltimore County.
The Red Line was to be a new, 14-mile long east-west light rail line through Baltimore City and Baltimore County. During planning and project development, WRA was one of the prime consultants with a lead role in the alternatives analyses that evaluated light rail transit (LRT) and bus rapid transit (BRT) alternatives in the corridor. The Locally Preferred Alternative (LPA) was announced in 2009, the FEIS was completed in 2012, and the Record of Decision was signed in early 2013. The project entered final design and has since been cancelled due to other infrastructure priorities in the state.
From the outset of this $2.6 billion project, WRA planners and engineers were responsible for all engineering assessments of the 6.5 mile-long section from Martin Luther King, Jr. Boulevard to Bayview. These engineering studies involved the identification and development of conceptual LRT and BRT alignments, including at-grade and tunnel options. Twenty alternative alignments were developed and six were identified as potentially feasible. WRA led the traffic and transit analyses that involved over 70 signalized intersections along city streets and an extensive data collection program, areawide Synchro modeling, and a combination of VISUM/VISSIM analyses.
After the transition into preliminary engineering and final design, WRA had worked as a Program Management Consultant(PMC). WRA's experienced, senior management staff and technical discipline leaders managed final design and stakeholders developed Memoranda of Agreement and FTA-mandated program documentation.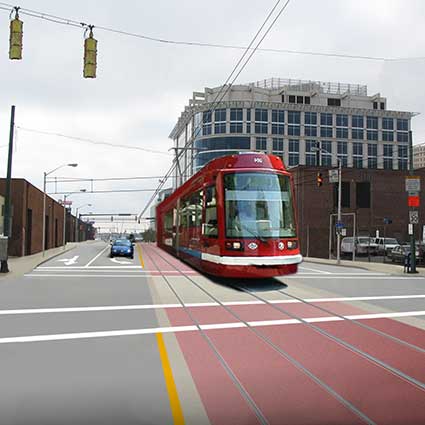 Quality Management
All quality audits are pre-planned, with a defined scope, and are used as a tool to foster continual communication and improvement within the Red Line PMC.
Stakeholder Management
Engineers worked closely with MTA's legal team and owner representatives to protect MTA's interests and maintain stakeholder support. With hundreds of properties along the project corridor, tracking and monitoring progress with agreements is critical.
Water/Wastewater
In addition to the Red Line construction, many civil upgrades are included in the project scope to accommodate the light rail's subsurface, at-grade, and aerial guideway. Coordination with project stakeholders and other third parties has been essential to gaining acceptance of the project.
Environmental
WRA staff developed the Purpose and Need Statement and initial technical evaluation measures for the project that incorporated provisions of the National Environmental Policy Act (NEPA). WRA has worked with the entire consultant team in the application of these preliminary evaluation measures.
Transit
WRA led the identification and development of conceptual Light Rail and Bus Rapid Transit alignments, including at-grade and tunnel options. The performance characteristics of a range of vehicles were applied to assess the various surface alignments, while the curvature limitations of tunnel boring machines and probable locations of deep building foundations were used to assess tunneled alignments.
Geotechnical
Specialized laboratory tests, including indirect (Brazilian) tensile strength, cerchar abrasivity, punch penetration and thin section petrography analyses, were performed on the rock cores obtained within the proposed rail tunnels. Additional geotechnical reports submitted during the planning phase provided identification, thickness, extent and physical and strength of the soil and rock strata, groundwater levels and extent of mixed face tunneling conditions.
Traffic
WRA traffic staff provided oversight, coordination, and reviews of traffic studies and designs. Tasks involved direct coordination with GEC traffic personnel; quality assurance reviews of FEIS reporting efforts; traffic-focused design plan reviews; and detailed support throughout the development of traffic specialty plans.
ADA Compliance
WRA coordinates with the MTA, MSHA, Baltimore City, Baltimore County and the GEC regarding the surface pedestrian improvements in the public right-of-way to meet the Federal standards. WRA reviews all ADA design submissions for the maintenance of pedestrian traffic during construction and system operation.
Bridges
WRA analyzed foundation options for retaining walls, bridges and tunnels, and assessed alignments of potential tunnel segments.
Mechanical
WRA provides supervision and design input to the engineering design team, managing the review process for design submissions. WRA has helped develop the MTA's current Design Criteria Manual for light rail projects and assesses design adherence to the criteria.
Landscape Architecture
WRA reviews the urban design, architecture, and landscape design elements of all proposed surface segments of the line.
Maintenance Facilities
WRA developed multiple layout options for five candidate sites for a vehicle maintenance and storage facility and developed a preliminary engineering design for the selected site, including a shop building, storage tracks or lanes, operations control center, and, for the LRT mode, maintenance-of-way facilities.
Program Management
As a member of the Program Management Consultant (PMC) leadership team, WRA provided experienced, senior management staff and technical discipline leaders who managed final design and stakeholder management for the project; developed Memoranda of Agreement and FTA-mandated program documentation; managed several surface transit segments; and secured right of entry agreements from property owners for engineering investigations. WRA also developed a strategy for implementing a Transit Oriented Development program and provided technical writing, quality assurance and safety-related support services. The PMC was contracted to support MTA in the management of all phases of the project.