Perry Hall. Newport, Rhode Island.
Prominently situated on the Naval Academy Prep School campus, this academic building is comprised of specialized spaces to train and educate cadets for a career serving the U.S. Navy.
The Naval Academy Prep School (NAPS) prepares selected candidates for officer accession through the U.S. Naval Academy. Encompassing a 14,700 SF renovation and a 9,000 SF addition, a new public image for the building was created on campus, along with improved functionality for classroom and training spaces. The design included a new entrance and lobby, a visitor's gallery, offices, conference rooms, classrooms, and retail space. New paved courtyards used for ceremonies and daily drills were incorporated into the design, and refreshed landscaping, lighting and signage enhances the building's presence on campus and creates a visual connection between the indoor and outdoor spaces.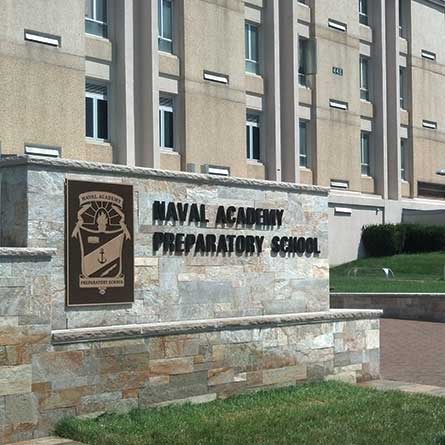 Architecture
Infilling under the main academic building added space for relocation of administrative offices. Courtyards and new fenestration focus on the relocated main entrances. The new glazing complements the existing building's aesthetic, bringing a fresh, contemporary look to NAPS.
Structural
Structural steel frames were designed to support roof-mounted equipment, four stainless steel canopies located at each entrance, a new slab on grade, and concrete reinforced retaining walls in the north and south plazas.
Protective Design/Security
Evaluated overall facility according to UFC 4-010-01 and implemented applicable standards into the design. Modified landscaping around the building to provide the required unobstructed space and to remove any opportunistic locations for threat concealment. Specified blast-resistant glazing, windows, doors and walls.