P-546 Research & Development Facility, Patuxent River Naval Air Station. Patuxent River, Maryland.
New aircraft systems are fabricated and tested to support the U.S. Navy in this new research and development facility.
Aircraft testing, including aeromechanics, flight control, strike missions systems, ship suitability, landing systems, and imaging is conducted in this state-of-the-art research and development facility for the Navy. The imaging lab is an open bay space with workbenches and equipment for testing aircraft systems. Classified and test equipment storage, offices, and conference rooms are also housed in this facility. The building is LEED Certified and AT/FP compliant.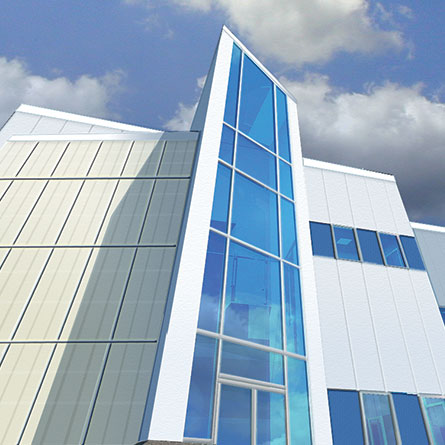 Architecture
The design incorporates a barrel roof to complement the adjacent hanger. Distinctive glass and a translucent two-story entrance leads to a bisecting public corridor, which is highlighted by a circular stair in the elevator lobby. A skylight accents the stair.