North County Maintenance Depot. Montgomery County, Maryland.
Innovative design for North County Maintenance Depot resulted in a spacious facility that supports Montgomery County's Ride-On bus program.
This LEED Silver, 165,000 SF facility includes a primary maintenance and operations building, covered bus storage structure with employee parking above, covered storage for highway vehicles and equipment, salt barn structure, county fueling facility and open material storage areas. This facility also includes 25 maintenance bays for busses and heavy equipment, body shop, paint shop, bus inspection, bus fuel and wash, parking for 250 busses, offices, bus driver support, and fare collection. Highway operations includes storage of 90 road maintenance vehicles, four garage bays, enclosed truck wash bay, covered parking, covered equipment storage, enclosed salt storage, covered material bins, open equipment and material storage, and county fueling station.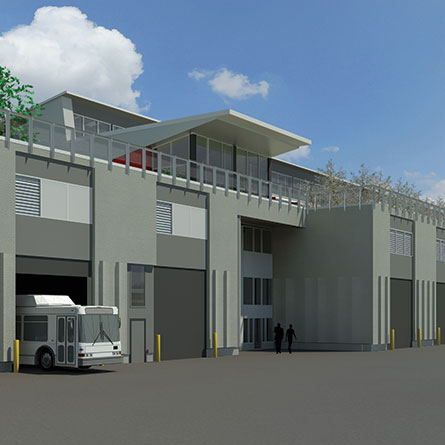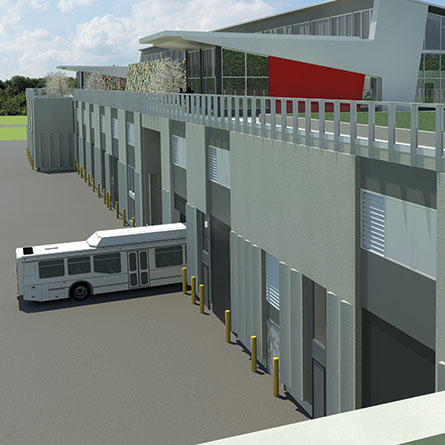 Architecture
Insulated precast concrete panels are punctured by large service doors on first level, glass enclosed shed style administration building on second level, green roofs, recycled highway signs for specialty cladding, color concrete and cork floors, recycled carpet and ceilings.
Civil/Land Development
The site design included roads, parking lots, equipment and materials storage lots, grading, utility infrastructure systems, and stormwater management. Additional tasks included multi-year alternative site analyses in collaboration with Montgomery County Department of General Services.
Fire Protection
New sprinkler, standpipe, and fire alarm systems were designed for this bus maintenance and administration center and performed life safety code analysis to determine provisions required to enable offices to be constructed above the maintenance bays and underground parking garage.
Mechanical
Special systems included underground diesel fueling stations, bus wash, paint booth, welding and tailpipe exhaust, kitchen hoods, green roof, oil/water separators, NOX and CO2 sensors, radiant floors, and central lubrication and waste oil systems. System was designed for LEED Silver certification.
Sustainability
Designed to achieve LEED Silver certification, the massive vegetated roof was key to stormwater treatment for the building's large footprint. The optimum orientation of the building was determined through solar studies while the mechanical system was designed to service large volume spaces of the program.