Newark Regional Transportation Center. Newark, Delaware.
Livability, sustainability, and energy efficiency are at the heart of a new landmark transportation center WRA is designing for the Delaware Department of Transportation.
The Newark Regional Transportation Center brings together Amtrak and SEPTA trains, three bus services, trail connections, and bicycle and motor vehicle parking to create a true multimodal hub for the city. Integrated into the University of Delaware's Science, Technology and Research Campus, the center's 450 parking spaces are designed in a modular manner to be converted to urban blocks as the campus develops over time. The station will include a ticket building, platform with passenger amenities, and pedestrian bridge that spans the tracks. The hallmark of the design is the extensive use of sustainable and environmental design features, such as rain gardens on the platforms and in the parking areas as well as vegetative roofs.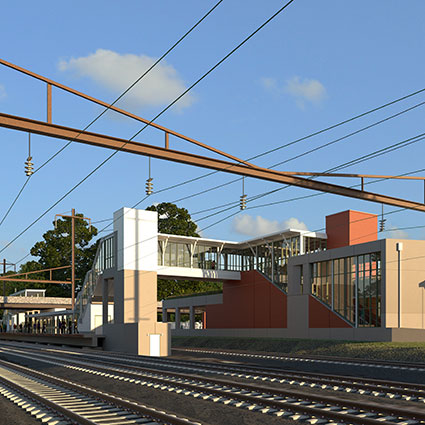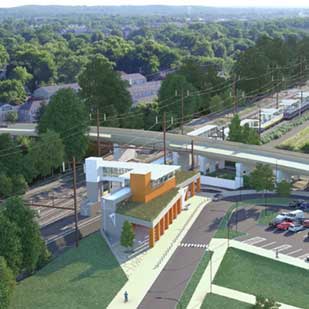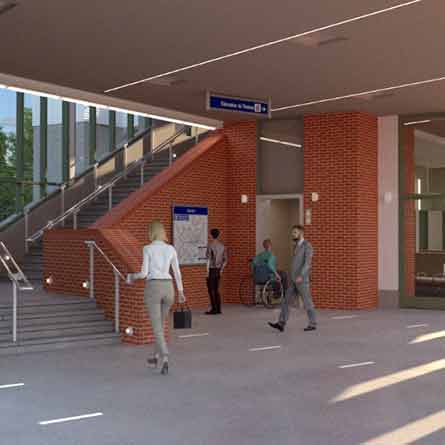 Transit
WRA is designing a new high-level platform along Amtrak's Northeast Corridor to serve Amtrak trains and SEPTA regional rail. The station will also interface with DART and Unicity fixed-route bus services.
Civil/Land Development
Civil/site design includes a new access road from South College Avenue that will form part of the STAR Campus street grid. A new 450-space parking lot incorporates transit access, kiss-and-ride, and electric vehicle charging stations. Major utility relocations are also included.
Architecture
The station building is inspired by the adjacent technology-centered campus and the former Frank Furness-designed station, directly across the tracks. The design features overhanging brackets and brick to recall the historic station and photovoltaic arrays and vegetative roofs for sustainability.
Structural
WRA is responsible for structural design of the entire project, consisting of a station building, stair/elevator towers, 300-foot pedestrian bridge, and 850-foot wide train platform.
Mapping/GIS/Surveying
Provided topographic surveys based on aerial LiDAR mapping combined and merged with traditional field gathered survey data. Performed surveys to established existing right of way and property lines. Wire heights and top of rail elevations were extracted from the LiDAR data.