Midshore Business and Technology Park. Ridgely, Maryland.
Strategically located, this 95 acre parcel offers an exciting opportunity for the development of a business and technology park.
Featuring a farmhouse, barns and silos, farm fields, hedgerows, existing roads, wetlands, and agricultural drainage ditches, this site is flat with sweeping views of the surrounding agricultural community. The goal was to develop a concept site plan to generate interest from potential commercial or technology developers. A site concept and master plan was developed to show the arrangement of phased vehicular and pedestrian circulation, buildings, open spaces, wetlands and view corridors, as well as possible new uses for the buildings. The design concept reinforced the agrarian context by creating clusters of buildings reminiscent of farmyards and fields with dynamic site geometries enhancing existing site conditions. ATFP setbacks to accommodate secure facilities was also investigated.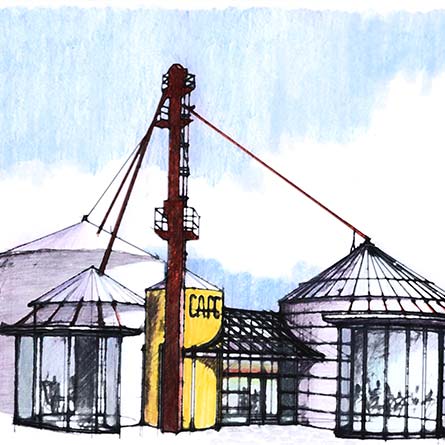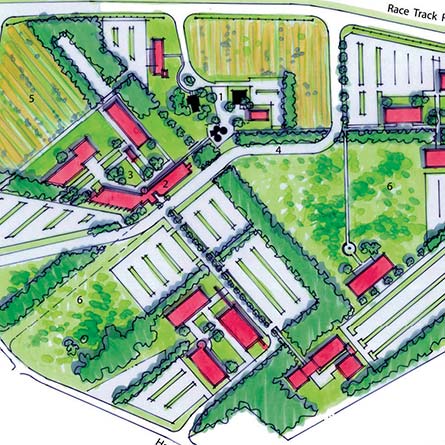 Civil/Land Development
Site investigations, preliminary grading and water/sewer service alternative analyses were performed. Cost estimates associated with the development alternatives were also prepared.
Planning
Project stakeholders were interviewed to develop programming criteria. Alternative land planning and conceptual designs were also developed, and the results were summarized in a report that was used to design Phase 1.
Mapping/GIS/Surveying
Services included aerial surveys and base mapping of the property.
Environmental
Preliminary site investigations were conducted, identifying and delineating wetlands. The impacts of existing environmental constraints on the development alternatives were also evaluated and. A Phase 1 ESA was prepared.