Mercy Hospital. Baltimore, Maryland.
To respond to the evolving medical needs of the region, this new 21-story, 700,000 SF hospital was designed.
The new Mercy Hospital was provided with complete site, permitting, and construction phase services by WRA. Underutilized buildings and a parking garage were demolished to create a sufficient area for the new facility. Site challenges included dense existing utility infrastructure, existing above and below-ground connections to adjacent hospital facilities, limited area for stormwater management facilities, steeply sloping topography, maintenance of existing hospital and adjacent business operations, and extensive permits/approvals requirements. Unique site improvements included a new remotely located parking garage connected via a bridge to the new facility, extensive streetscaping, modifications to existing traffic signals to accommodate the new vehicular entrances, and underground SWM facilities.
*Photo credit: Patrick Ross.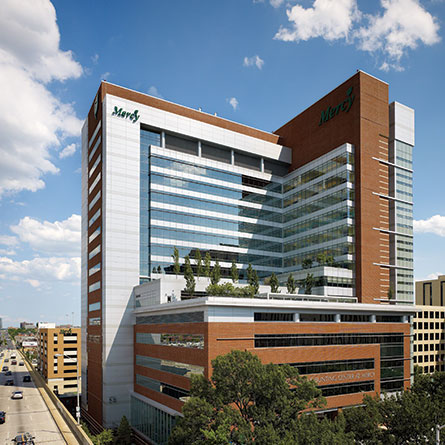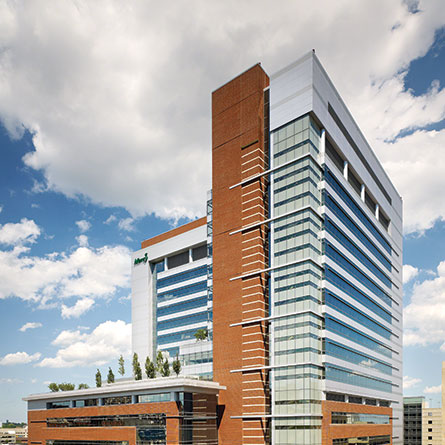 Civil/Land Development
Field investigations including utility locating, and designed demolition plans of existing commercial/residential buildings were performed. Also provided was the coordination with existing utility infrastructure, innovative underground stormwater management facilities, streetscaping, maintenance of traffic, new utility services, and extensive permits/approvals and Public Works Agreements.
Mapping/GIS/Surveying
Topographic and boundary surveys were performed, as well as preparing easements for utilities and air rights. WRA provided utility locating services, including test pits, to confirm underground utility infrastructure locations.
Environmental
SWM/ESC approvals were prepared and expedited from Baltimore City.