Marine Corps Reserve Center. Topsham, Maine.
This new LEED Gold certified reserve center supports the readiness, training and administrative needs of A Company 1st Battalion, 25th Marines, 4th Marine Division.
The focal point of marine training in Brunswick, Maine is this new 19,000 SF training center. Reservists use this facility to hone physical strength as well as complex military strategies. This reserve center, designed to fully support marine preparedness for times of war or national emergencies, is complete with a drill hall, arms vault, firearms training simulator, classrooms, medical suite, fitness center, as well as offices and secure and non-secure telecommunications. The building is also open for public use on special occasions, such as family weekends and charity initiatives.
Photo credit: David Lamb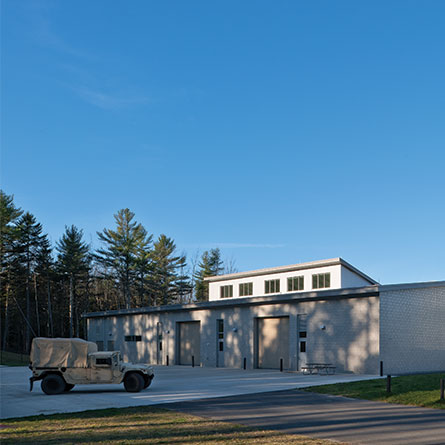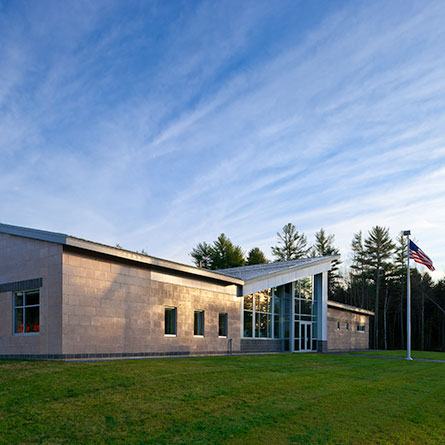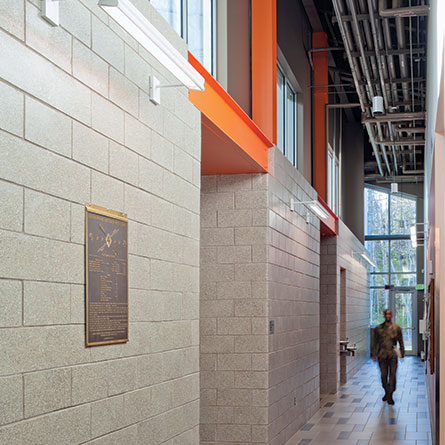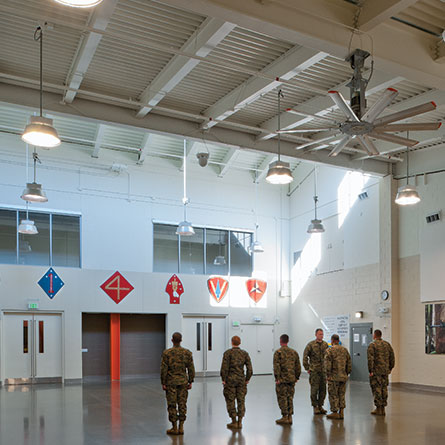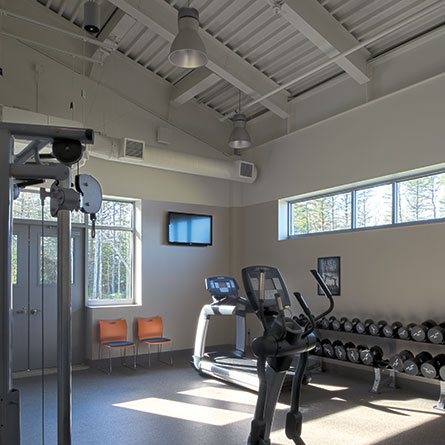 Architecture
Roof top light monitors and extensive use of borrowed lites at interior partitions introduce daylight to all area of the building. The color of the masonry walls and sloped metal roof system provide a monolithic appearance against the surrounding pine forest.
Civil/Land Development
Located on a pristine 51 acre rocky, wooded site includes wetlands, vernal pools (breeding areas for endangered amphibians) and archeological areas. Stormwater management is provided through low impact development consisting of wet ponds, a bioretention facility, grass lined swales and roof-drip lines.
Mechanical
A ground source heat pump system with dedicated outdoor air units was designed to provide flexible conditioning for building with intermittent and variable occupancy. Supplemental perimeter hydronic heating via high-efficiency condensing boilers helped achieve significant energy savings and LEED Gold certification for the building.
Protective Design/Security
Implemented AT/FP standards in UFC 4-010-01 to provide compliant standoff distances to roadways and parking to satisfy the Primary Gathering Building classification. Vehicle gates were provided to control access to the MOV parking and storage area adjacent to the building.
Sustainability
This new, LEED Gold certified building was constructed of recycled and regional materials and utilized a geothermal system for an energy savings of 26%. Daylight modeling was used to demonstrate that 80% of the occupied spaces are provided with natural light.