Manayunk Bridge and Ivy Ridge Trail. Philadelphia, Pennsylvania.
The Manayunk Bridge and Ivy Ridge Trail form a key link in Philadelphia's regional trail network. WRA led the planning and design of this project.
Described as the "crown jewel" of the Delaware Valley trail network, the Manayunk Bridge and Ivy Ridge Trail is a landmark trail connection between the Philadelphia neighborhood of Manayunk and Lower Merion Township across the Schuylkill River. This 0.4‐mile link is important both from transportation and recreational perspectives. WRA planned and designed the trail on the Manayunk Bridge, including the preparation of concept and final design documents, public engagement, environmental studies, structural assessment, and construction plans. An extension of the Ivy Ridge Trail will follow under a second phase, extending along unused commuter rail right-of-way. Landscaped activity nodes will connect the 0.6‐mile trail extension to the neighborhood street grid and provide vital open space elements in the dense urban fabric. WRA completed a planning study for the Ivy Ridge Trail, which awaits construction funding.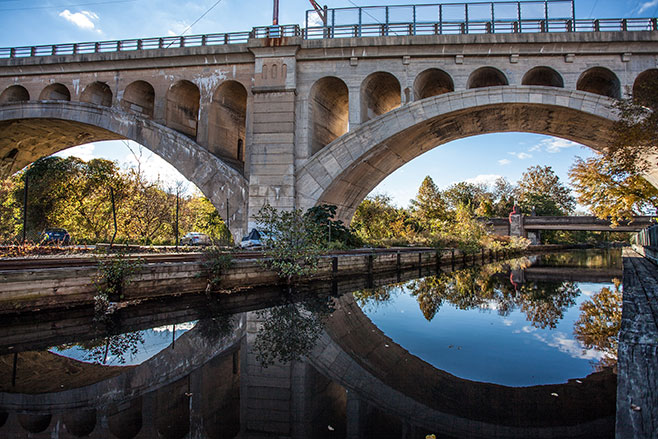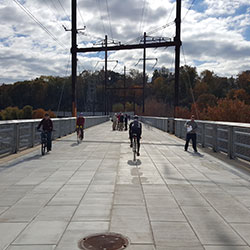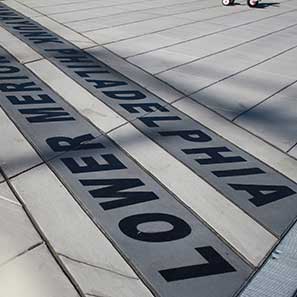 Pedestrian/Bicycle
Because this trail is expected to be one of the busiest in the region, WRA evaluated a number of alternatives to accommodate all users. The design includes separate approaches for bicyclists and pedestrians, combined into a shared plaza on the bridge.
Bridges
WRA conducted a structural evaluation of the Manayunk Bridge, a landmark masonry arch structure towering 80 feet over the river, and its approaches. We also developed a railing system that meets structural requirements and is consistent with the bridge's historic nature.
Landscape Architecture
WRA worked closely with the responsible agencies to develop a plan that could be readily maintained. The Manayunk trailhead includes plantings incorporated into an access ramp and plaza. Provisions were made for future planters on the bridge itself.
Planning
No fewer than nine agencies had significant responsibilities for the funding, design, construction, and maintenance of this project. WRA diligently coordinated the needs of those agencies to facilitate consensus. We also obtained public input through a series of workshops.