Main Administration Building. University of Maryland College Park.
Housing the University's President and offices, with its location anchoring McKeldin Mall, improving accessibility was the goal. But to do so while maintaining the building's 1930's character and colonial revival interior was key to the successful addition of an elevator within the Main Administration Building.
This challenging renovation is composed of fitting a new elevator in the 1930's building without altering the exterior or roof lines and minimizing impact on the ceremonial lobby. The reception and waiting area are also used for social functions, adding to the challenges of the elevator design. The solution entailed the removal of one stairway. To minimize the impact of the renovation, the moldings and architectural trim were recreated to face the new elevator enclosure. The terrazzo floor finishes were matched throughout the space.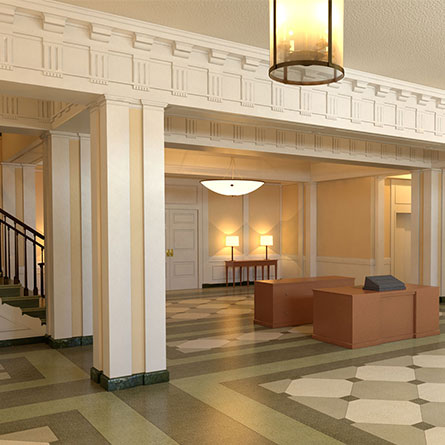 Architecture
The design of the new elevator was accomplished with minimal impact on the appearance of the first floor lobby and reception space. The work was carefully detailed to match the existing trims and moldings.
Interior Design
To preserve the character of the first floor main lobby, the painted architectural wood wall paneling and molding were replicated at the new elevator enclosure. The intricate terrazzo pattern was reproduced around the new infill floor.