Lyttonsville Yard Facility. Lyttonsville, Maryland.
An operations and administration facility was designed for the MTA Purple Line light rail staff to enable the supervision of the system's operations.
The Lyttonsville Yard is located in an industrial area, adjacent to the proposed Lyttonsville Station and Lyttonsville Place Bridge, also designed by WRA. A one-story 304 space parking deck covers the train car storage yard, and functions as a base for the two-story, 20,000 SF office building. The program includes administration offices, conference and break rooms, the operations control center, and support spaces for the line operators.
The building is to be LEED Silver certified and features a vegetated lower roof and landscaped plaza. These green spaces soften the views from adjacent high-rise apartments and enliven the streetscape. Inspired by the geometric forms and materials of early industrial buildings, the design represents its users, while providing a lively, modern presence within the neighborhood.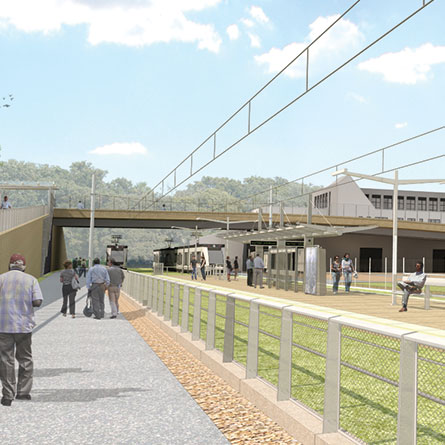 Architecture
This office building houses light rail line operators' administration, support space, and an operations control center. Vegetated lower roofs were incorporated in the design. Inspired by industrial materials and forms, the design provides a modern, lively image for the MTA.
Sustainability
Designed to achieve LEED Silver certification, the parking lot and office structures were located over the railcar storage yard, which reduced the site area of impact. The building was located adjacent to a new light rail stop, providing access via public transportation.