Kittanning Transportation Study. Kittanning Borough and Armstrong County, Pennsylvania.
Kittanning Borough and Armstrong County, Pennsylvania, recognized that redevelopment and aging infrastructure created difficulties for motorists, bicyclists, and pedestrians, spurring the need for this multimodal community transportation study.
Kittanning Borough, in cooperation with Armstrong County, recently refocused their revitalization efforts in the county seat. In support of those efforts, the Kittanning Transportation Study was a Pennsylvania Community Transportation Initiative (PCTI) funded project to evaluate multimodal traffic and safety issues throughout the borough. Study goals aimed to improve and enhance general traffic flow, the pedestrian environment, connections to community assets, and multimodal access during special events.
The study included targeted stakeholder and community outreach through a project advisory committee, community stakeholder committee, and various public surveys; a Complete Streets walking audit; and alternatives analyses using HCS, Synchro, VISUM, and VISSIM. These efforts coupled with various performance evaluations to support the development of a project implementation plan that encompassed corridor-specific traffic and geometric modifications, streetscaping elements, community planning actions, multimodal enhancements, traffic signal upgrades, and safety upgrades.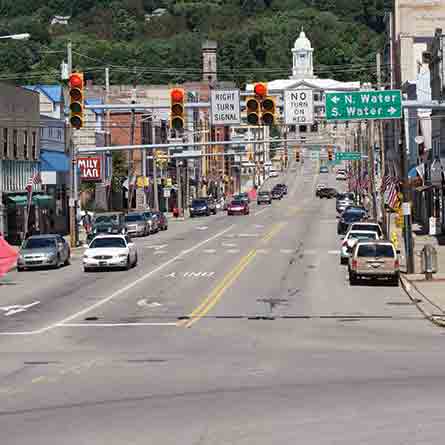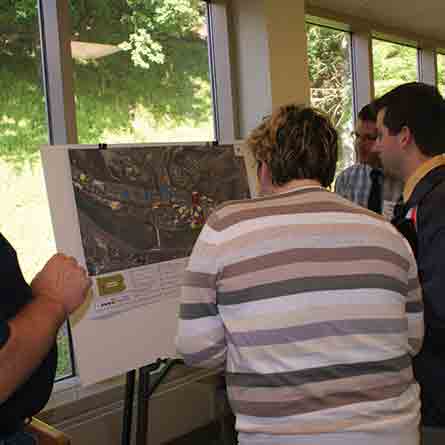 Traffic
The project involved a variety of data collection and engineering studies, a Complete Streets walking audit, and a borough-wide sidewalk condition inventory. The assessments of multimodal traffic conditions, needs, and improvements were supported by HCS and Synchro analyses, plus detailed VISUM/VISSIM modeling.