Jiminez Hall. University of Maryland College Park.
The conversion of an outdated lecture hall resulted in a functional, contemporary teaching space and venue for the University's Film Study Department.
This 2,500 SF lecture hall, constructed in the 1960's, was reinvigorated through a comprehensive renovation. The concrete lectern platform was removed and replaced with a lower floor, which increased the projection aspect ratios for viewing digital and 16mm projections. To improve sight lines, the flat lectern wall was replaced with a three-part, oak trimmed wall with angled sides, each with writing boards and projection screens. Ceiling mounted projectors were added and for the films the projection booth was renovated. Perimeter walls were thermally insulated and fitted with vertical oak trim acoustic panels. New, accessible seating accommodates 170 students.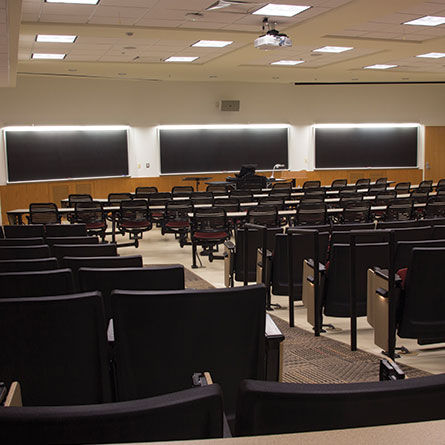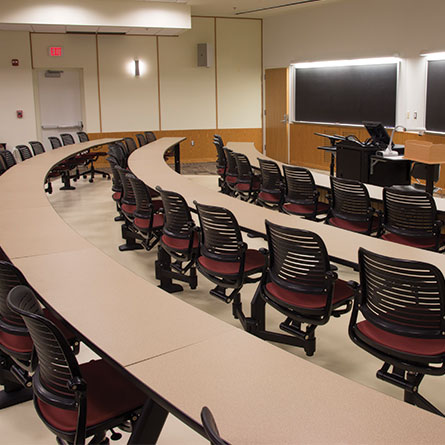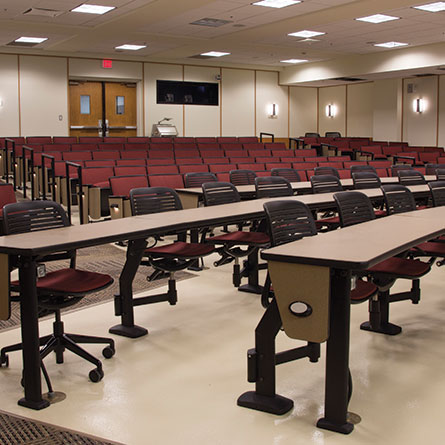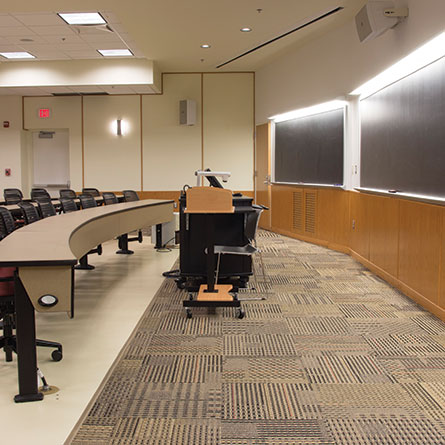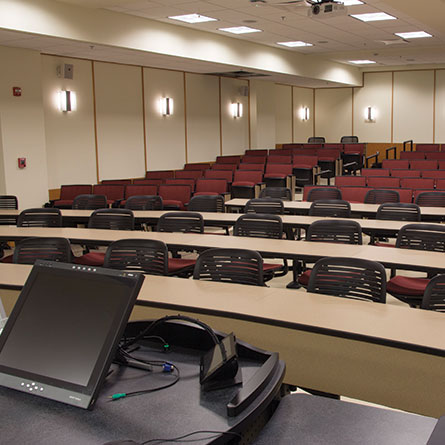 Architecture
Architectural changes for this interior renovation included the modification to the floor slopes and lowering the lectern platform. New bulkheads along the sidewalls enclose HVAC ductwork.
Interior Design
Layout, finishes and fabric selection of university-provided seating were coordinated with a mix of tablet arms and seating at fixed tables. Side walls were faced with oak trimmed acoustic panels, and the instructional wall features oak wainscoting and trim. Carpet with epoxy coated concrete under the seating areas was selected.
Mapping/GIS/Surveying
Topographic surveys for the interior/exterior grade modifications. Surveys were performed and tied to the Maryland State Plane Coordinate System in NAD'83/88. Data was collected to map utilities and building elevations. A model was developed to design renovations to the lecture hall.