I-70 Welcome Center. Frederick, Maryland.
As the only rest area along I-70 between Pennsylvania and Baltimore, Maryland, South Mountain Welcome Center offers visitors an interlude among stunning scenery and the pastoral lull of western Maryland.
This gateway signature facility consists of a 4,000 SF welcome center and a 6,000 SF rest room building that evokes history, natural surroundings and rural character. Key features include an outdoor plaza with electronic kiosks, vending, playground and picnic areas, and ADA compliant walking trails. The LEED Silver design features stone, wood and glass exteriors, vaulted ceilings, integrated welcome desk and map area, large information shelving area, audio visual display area, office, conference room, staff lunch room, ground source heat pumps, automatic entrance doors, large open rest rooms with low water consuming fixtures, separate family rest rooms, covered canopies between buildings, coordinated plaza materials with historical and tourist information integrated into floor deck and pedestal monuments. Separation of traffic and access to the facilities for truck, bus, RV and cars was a key safety concern of the design.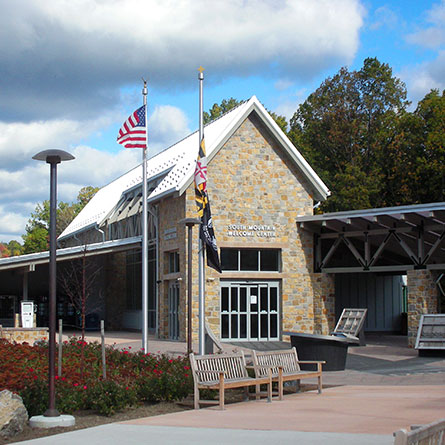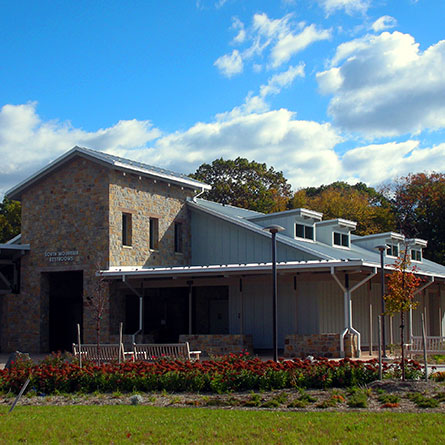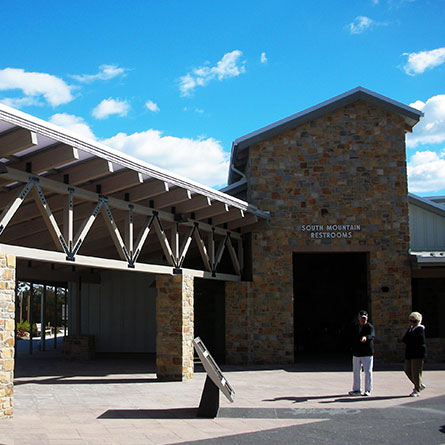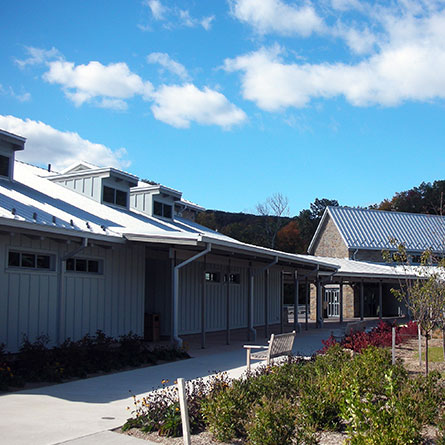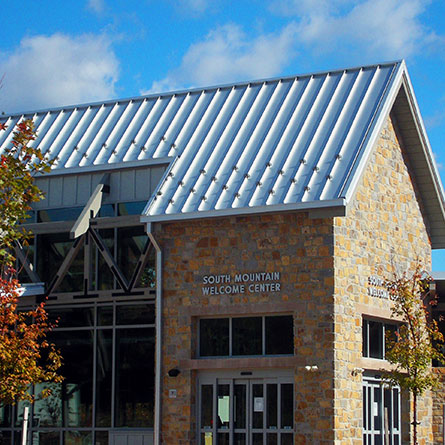 Architecture
Forms evoking the regional agrarian landscape provide a striking design for the welcome center. It is composed in a series of activities around a central plaza, illustrating the "Gateway To The West" story of the South Mountain area, including Frederick and Hagerstown, Maryland.
Surveying
Surveys were conducted for topographic mapping and to establish of existing right of ways. The topographic surveys were the basis of design for site improvements. An SHA right of way plat was prepared for acquisition of property and perpetual easements.
Sustainability
The building received LEED Silver certification, which is a challenge in a mountain setting. The creative stormwater management design maximized the open space and utilized pervious concrete. Natural light and views of the surroundings through large windows were highlights of this thoughtful sustainable design.
Landscape
Landscape design along MD Route 85, MD Route 355, and MD Route 914 using various shade and flowering trees was provided. Stamped colored concrete and brick pavers were utilized in the medians. Retaining walls and bridge abutments also received stone finish aesthetic treatments. A storm sewer was also designed.